04.07.2022
Where is Every Body?
17:30 – 20:00
Framer Framed and online
This gathering, Where is Every Body?, is the first of this year's H&D meetups, and will be oriented towards unpacking questions of inclusivity and accessibility in the hybrid cultural sector. Seeking to engage in an ongoing practice of greater accessibility, we want to direct our attention towards tools, practices, and methodologies that normalize expressing and meeting needs and support the creation of multiple points of access. We have invited artists, designers, activists and technologists from the intersecting fields of public policy, disability justice, design pedagogy, and community organizing to explore questions of inclusivity, accessibility, and their socio-technical complexities through talks and moderated discussions.
We ask the question, "Where is Every Body?", in a two-fold manner: On one hand, a shift towards a more hybrid cultural sector has been demanded by the disabled community long before the pandemic opened up for this option but was not addressed with such importance. On the other hand, the developments that have led to — and continue to construct – this "hybrid" reality, was never driven by a need to reach out to and include crip and disabled bodies.There is an urgent need to intersect these developments of going hybrid with an open and honest inspection of where, how, and for whom a hybrid cultural sector will become accessible.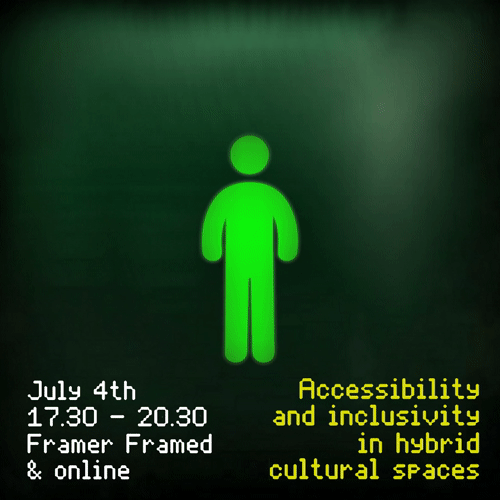 Image description: Animation of an abstract icon of a human being transitioning between different disabilities until it reaches the shape of a human on a wheelchair, actively leaning forwards, which is then flipped over and takes the shape of a question mark. The animation plays forwards and backwards in loop. The text on the animation reads "Where is Every Body? July 4th, 17:30 - 20:30, Framer Framed and Online, Accessibility and inclusivity in hybrid cultural spaces.
Location
The event will be held at Framer Framed, in Amsterdam (Oranje-Vrijstaatkade 71, 1093 KS), at the ground floor, as well as livestreamed over at https://live.thehmm.nl/where-is-every-body.
Program
17:00 - 17:30 : Doors open, arrivals
17:30 - 17:45 : Introduction
17:45 - 18:15 : Guest talks
18:15 - 18:25 : Break
18:25 - 18:55 : Guest talks
18;55 - 19:00 : Break
19:00 - 20:00 : Moderated discussion
Guest speakers
The discussion will be moderated by Cannach MacBride
Sign-up
Please sign up by sending an email to info@hackersanddesigners.nl and filling in the blanks.
This event is free of charge and is open for anyone to join, We welcome artists, technologists, cultural practitioners, system administrators, activists and anyone interested in these topics and we would especially like to invite disabled and chronically ill people from these fields and beyond.
Sign up closes at 40 applications; that is, we welcome people joining last minute or without signing up, but we cannot ensure a seated spot.
We will only use your provided email address to contact you regarding information about the event.
Access notes
For all participants: The event will be held in English, with automated English closed captions and both the digital and physical spaces will be moderated. The event will be interluded with two short breaks. If you have any access needs that are not addressed on this page, especially something that might need to be communicated in advance to everyone, for instance with regards to social distancing or other health-related measures, please let us know before June 29 via email. Tell us what you need to participate. We wish to reduce barriers!
For participants joining onsite:
The event takes place at Framer Framed, which can be accessed via a 5 minute walk from tram/bus stop Ostpoort and a 7 minute walk from train station Muiderpoort (both walks have very small changes in elevation). We will host the event on the ground floor and the WC is wheelchair accessible and gender neutral. Measurements of the entrance door is 104 cm (when double doors are open: 210cm) height 265 cm with a theshold of 2 cm. The toilet door is wide: 87 cm, high: 228 cm with theshold of 1 cm. Chairs with backs are available. Movement, taking breaks etc. are welcome. There is space to store walkers, canes etc. Please come with no or low scent. This part of the building is spacious and well ventilated. It will also be hosting the exhibition "The Silence of Tired Tongues", who's audio and video output can be turned off upon request. There will be a photographer on location; so if you prefer not to be included in photographs, please inform the moderator or email us in advance. Automated (English) closed captions will be available on a display in the space. We are expecting approximately 30 people in a space that can host 50. We will provide simple refreshments such as water and tea. Framer Framed will be selling alcoholic and non-alcoholic beverages after the program is over.
For our participants joining online:
The Hmm's livestream platform meets all web WAI-ARIA recommendations, is assistive-technology friendly and has been tested with default operating system screen-readers on MacOS and Debian Linux. The interface includes some moving parts which can be disabled in the accessibility menu. Automatically generated closed captions will be provided as well. There will be 4 available viewing modes: (1) varying qualities of video, (2) audio only, (3) thumbnails and a live transcript and (4) live transcript only. We are expecting approximately 30 concurrent visitors on a server that can host 400.
Code of Conduct
We ask participants of our meetups to read the H&D Code of Conduct before attending the event. If you observe or encounter any behavior that violates the CoC, please reach out to Karl via email (karl@hackersanddesigners.nl) or phone number: +31 6 40433749. Unless you explicitly request otherwise, your report will be processed anonymously.
Documentation
The event will be recorded and the video and an access copy of the transcript file will be made available shorty after the event on this page. We have invited Silvia Boschiero to produce some photographic documentation of the event, which will also be gathered here.
Photos!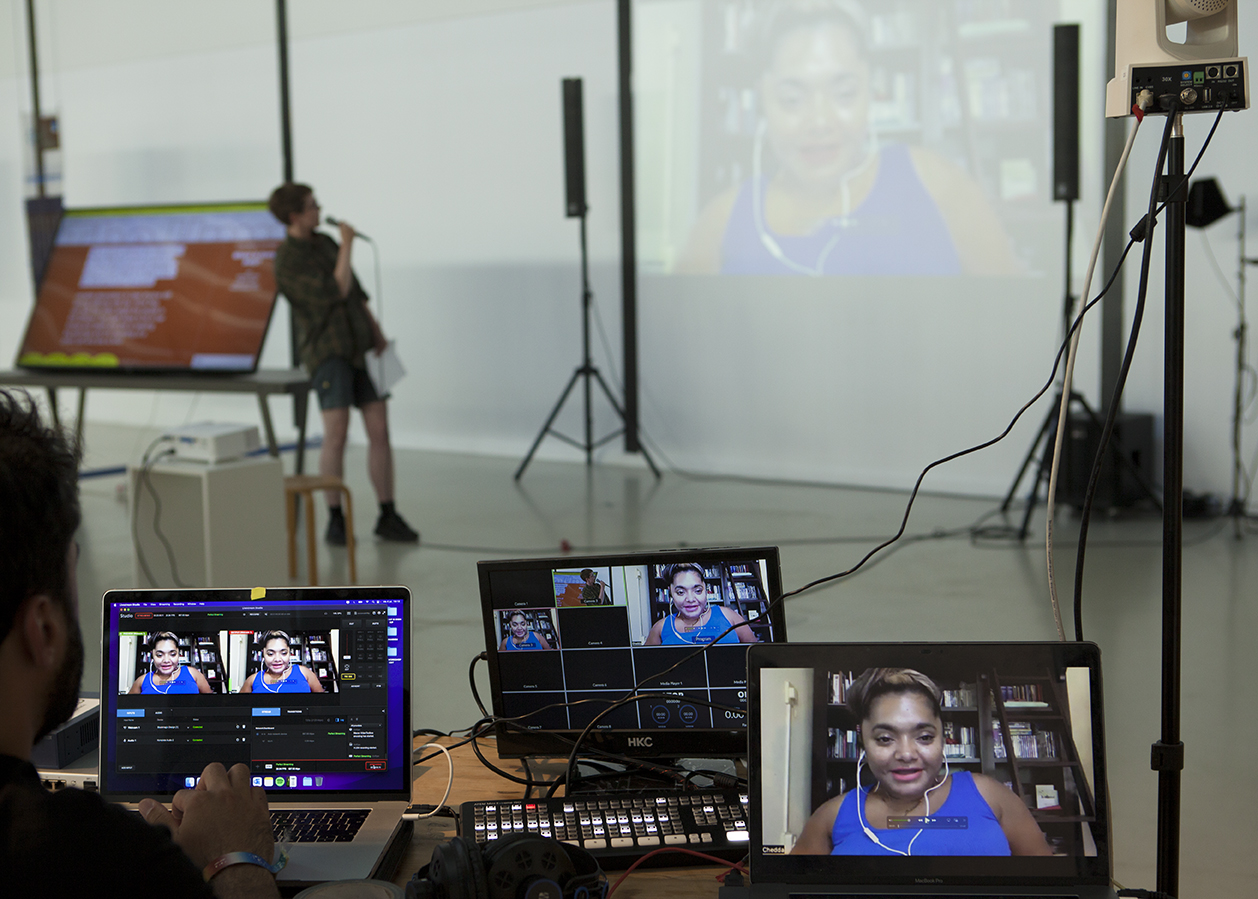 Image description: In the foreground are three computer monitors working to stream online. Cables run diagonally across the image connecting screens to camera. A blurry background shows speaker Jeanette Chedda being introduced by a person holding a microphone. A video of Jeanette's face is projected on the wall and the same image is shown on the screens. Jeanette's face is captured mid-sentence while wearing a clear blue sleeveless top and white headphones.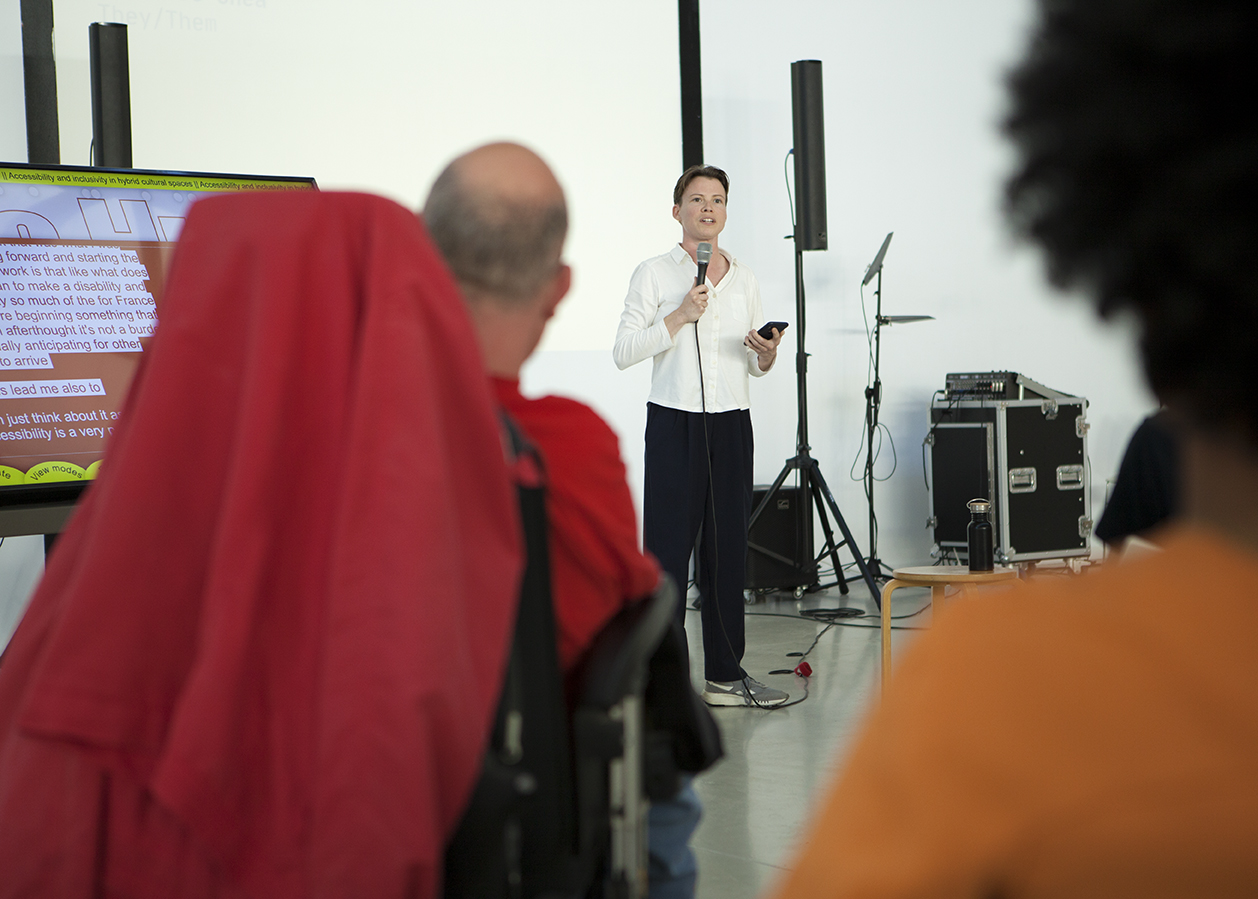 Image description: Speaker Staci Bu Shea is holding a microphone in one hand and a phone in the other. They are wearing a white shirt and black pants. Next to them is a large TV displaying live captioning generated by Staci's voice. In the foreground are blurry outlines of the a few members of the audience.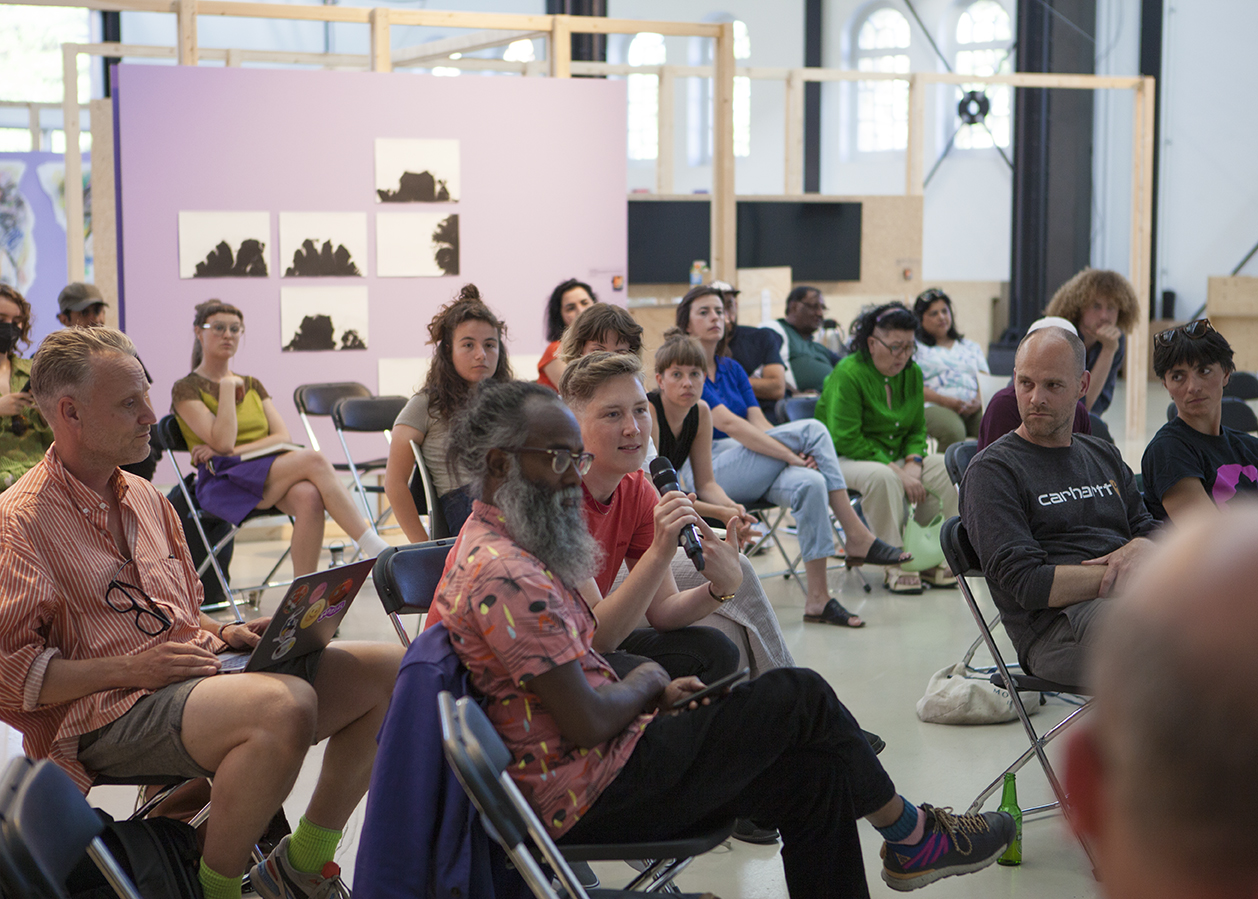 Image description: A large bright room in an exhibitions space holds space for an audience of about 20-25 people. Hackers and designers member Loes, is part of the audience and is asking a question via a wireless microphone.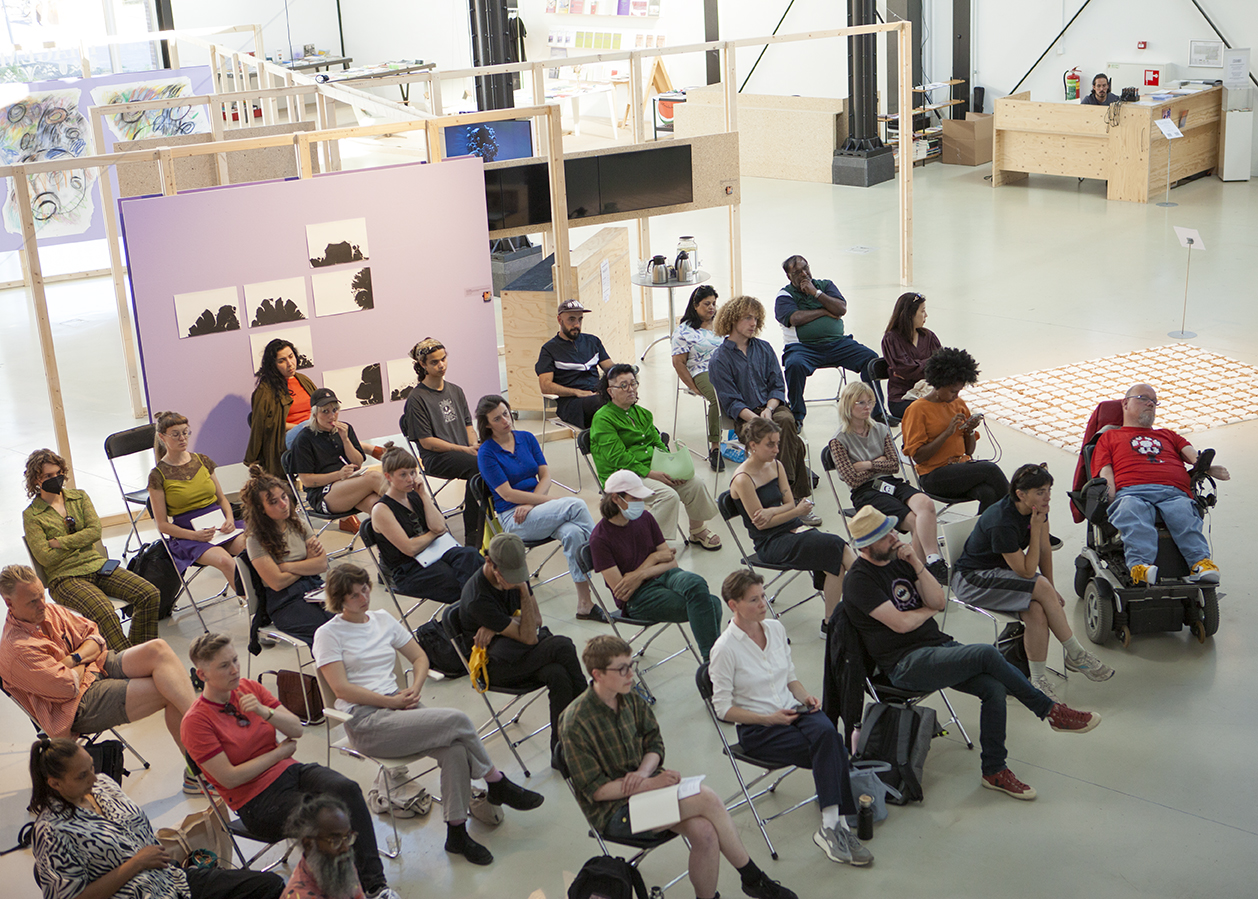 Image description: An audience captured from above. About 20-25 people seems focuced with attention towards a stage that is not featured on the image. The room is bright with high celings and has several artworks on display.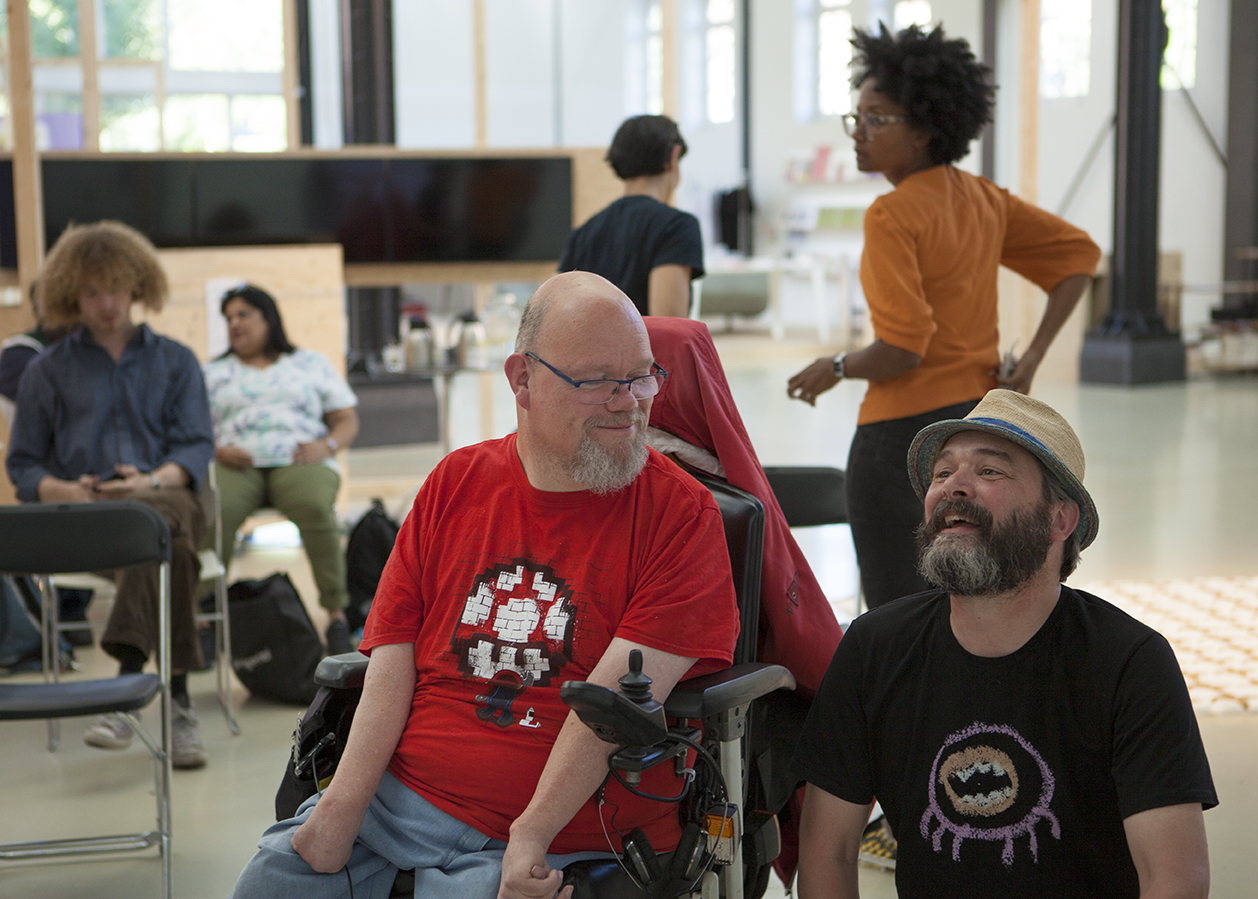 Image description: Speakers Vasilis Van Gemert and Eric Groot Kormelink are both smiling. Eric is in a wheelchair wearing a red T-shirt with his face turned towards Vasilis. Vasilis has a beard and is wearing a black T-shirt and a straw hat. He is in a squatting pose.
All the above image, video, audio, and pdf materials are released under the CC4r license, unless otherwise mentioned.
Unfortunately, due to technical difficulties during the livestream, we were not able to extract the automatically generated closed captions.
Credits
We would like to thank MELT (Ren Loren Britton & Isabel Paehr) for their generous consultation and advice on approaches and methods of making this event more accessible.
The graphic for this meetup was made by Menko Dijksterhuis.
The H&D Meetups are informal gatherings for anyone with an interest in in-depth explorations of the intersections of accessibility and sustainability of hybrid cultural work and techno-social life—the cultural, economical, ecological, and geographical implications of our increasingly complex entanglements with technology.
The H&D Meetups are kindly supported by Amsterdam Fund for the Arts and the Creative Industries Fund.