Sign up for the 4th edition of the H&D Summer Academy, taking place 21 July–2 August 2018 in Amsterdam! See also our open call for participation for more information about the sign up! Check last years workshop documentation on the H&D Youtube channel.
Stay up to date about upcoming activities: Sign up for our newsletter.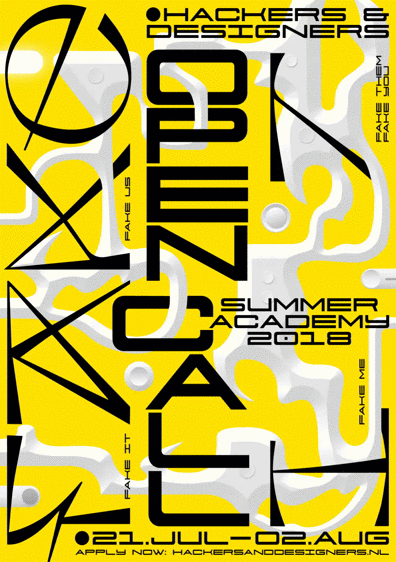 Upcoming
10.05.2018

Summer Academy 2018: Open call for participation

Are you interested in exploring the boundaries of existing technology, programming platforms, online/offline networks, and user experiences? (e.g. webware, hardware, software, internet, IPFS, darknet, peer 2 peer, blockchain, bot networks) Are you thinking through making? Are you looking for new challenges and cross-disciplinary collaboration? Submit a workshop proposal!

21.07.2018——02.08.2018

H&D Summer Academy – Fake it! Fake them! Fake you! Fake us!...

In recent years our use and understanding of notions such as truth and reality have been heavily challenged. "White Lies", "Fake News" and "Alternative Facts" are buzzwords that illustrate how truth might have become obsolete, and needs to be reconsidered. The notion of truth must be questioned as much within discourses of journalism as within the digital humanities, computer science, engineering, art and design practices. What are those tools and technologies–that we are building, using and updating, and therefore constantly reaffirming–capable of? Do you really know? Do we need to know? By giving the 4th edition of the H&D Summer Academy (HDSA2018) the title: Fake it! Fake them! Fake you! Fake us!... H&D calls for taking things into own hands. By inviting hackers/designers/makers/artists to come together for 2 weeks in the summer we aim to establish a critical perspective on truth as such, and call for an informed dealing and working with multiple truths.
Archive