Hackers & Designers stands in full solidarity with the Palestinian people and their ongoing struggle for self-determination and liberation from the oppressive colonial State of Israel and its Western supporters.
The Zionist apartheid regime, the murder of thousands of innocent civilians in Gaza and the West Bank, the destruction of religious sanctuaries and vital civilian infrastructures, the forced displacement of thousands of Palestinians, the suppression of fuel, water, electricity and medical supplies, and the weaponization of civilian death, fear and grief must end now.
Supporting Palestinian liberation stands by no means in opposition to acknowledging the violence caused by the attack of Hamas. We grieve the deaths and kidnapping of Israeli civilians and stand in solidarity with their families and friends.
We also refuse to see what has unfolded since October 7th divorced from the violent colonial history and occupation of Palestine since 75 years.
We are asking ourselves 'How can we care for one another and the (international) communities we consider ourselves part of?' We believe its vital to continue checking in with each other, and resist the polarisation that we see working its way into our communities. Simplistic dichotomies and easy conflations between the zionist state of Israel with Judaism or Israeli citizenship, between Hamas and Palestinian civilians, bring us further away from locating and understanding the root of this systematic violence and our own implication in it. We urge everyone within the H&D cosmos to stay in touch and in solidarity with one another, and refuse shortcuts.
We are critical of the state of Israel as much as we are of our own governements that finance and justify, thus reinforce colonial violence.
This statement has evolved alongside discussions amongst H&D – a group of people who hold different positionalities. We took time to talk, read, exchange resources, ask questions,... and we decided to share this statement to stand in solidarity with all people who are facing arrests and violence for expressing solidarity.
As a community committed to education as a collective endeavour and one of self-actualization, H&D would like to offer a list of resources we have read and discussed leading up to and during the Global Solidarity strike of October 20: Solidarity with Palestine
・゚
📡 Listen back to the daily radio livestream of this years' Hackers & Designers Summer Camp 2023 Hopepunk: Reknitting Collective Infrastructures on goodtimesbadtimes.club
・゚
✏️ September 15-16-16, Constant, Hackers & Designers and 15 participants did a three-day workshop in Brussels: The Age of Dust. Come check the traces of the collective storytelling and tool building at constant_V until November 12.
・゚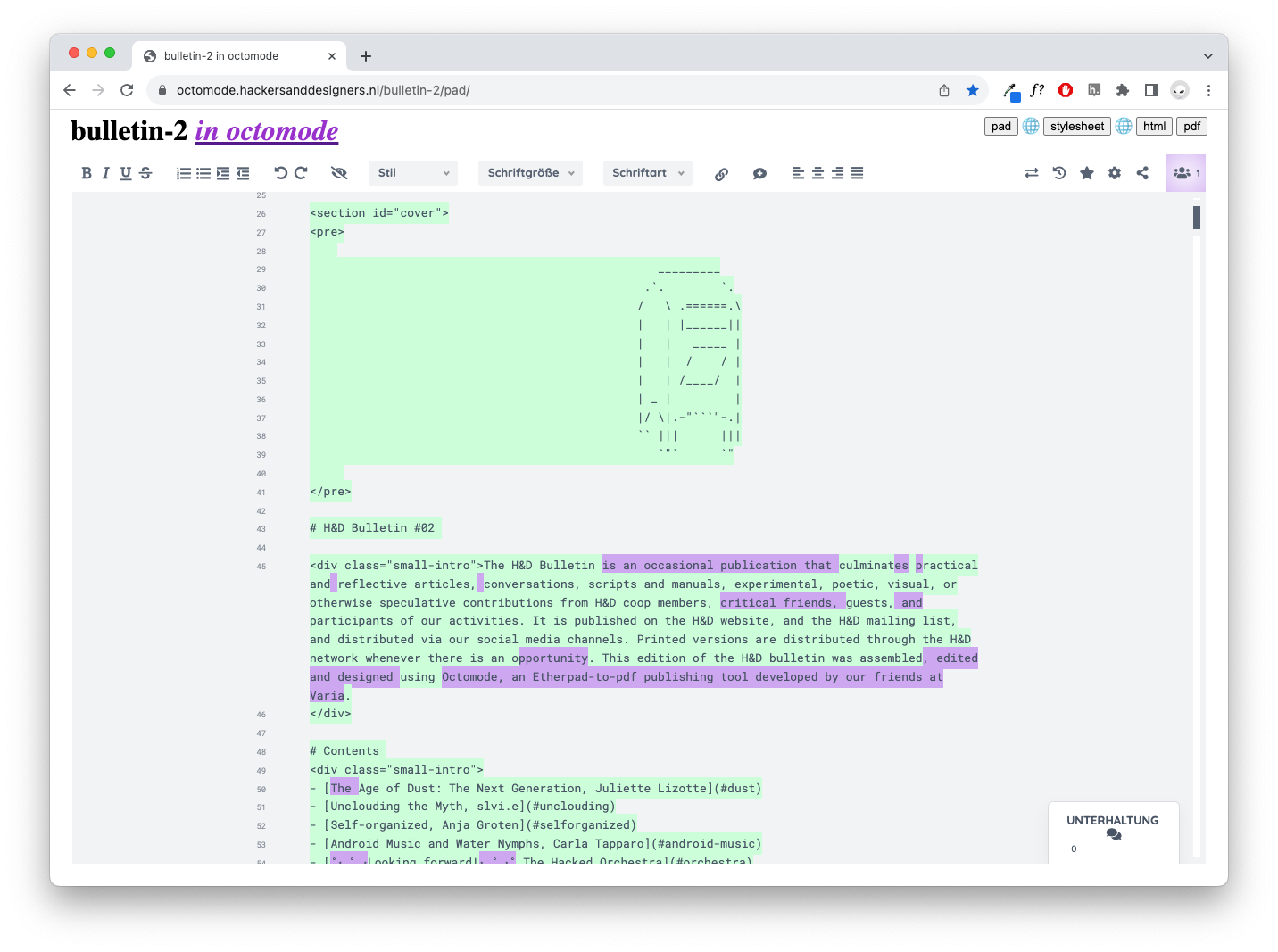 📬 The second H&D Bulletin – H&D's new occasional publication is now available to read online and soon to purchase as printed matter.

📚 First, Then... Repeat. Workshop Scripts in Practice, Network Imaginaries and Coded Bodies is still available! Contact us at info@hackersanddesigners.nl to get a copy (15€ + shipping costs)!
The content of the following publications can be also found online! Find all the articles in the Publishing tab or on the pages of the respective book:
・゚
🎥 Learn about H&D's activities with Together, Decentralised, our Volumetric Interview with RGBdog
・゚
✉️ Want to receive H&D updates?
Sign up for the H&D mailing list by sending an email to: news+subscribe@lists.hackersanddesigners.nl. Make sure to check your spam folder if you don't receive a confirmation email for your subscription.
・゚
Support people living in Ukraine from the Netherlands: Ukraine Support
To provide an environment of mutual respect that is safe and welcoming for all participants H&D wrote (and will continue writing, reviewing, and incorporating new insights) a Code of Conduct. This document intends to make explicit what it takes for us as a community to create such a safe environment and what to do when such an environment is under threat: H&D Code of Conduct.
We put together a non exhaustive list of Anti-Racism Resources to build a better understanding of what can be done to actively fight racism. We will continue to add things as we stumble upon new inspiring resources, feel free to share!
No upcoming events!
Archive