24.07.2023
Re-embroidering Language
14:00-17:00
Het Wilde Weg
w/ Laura Flethe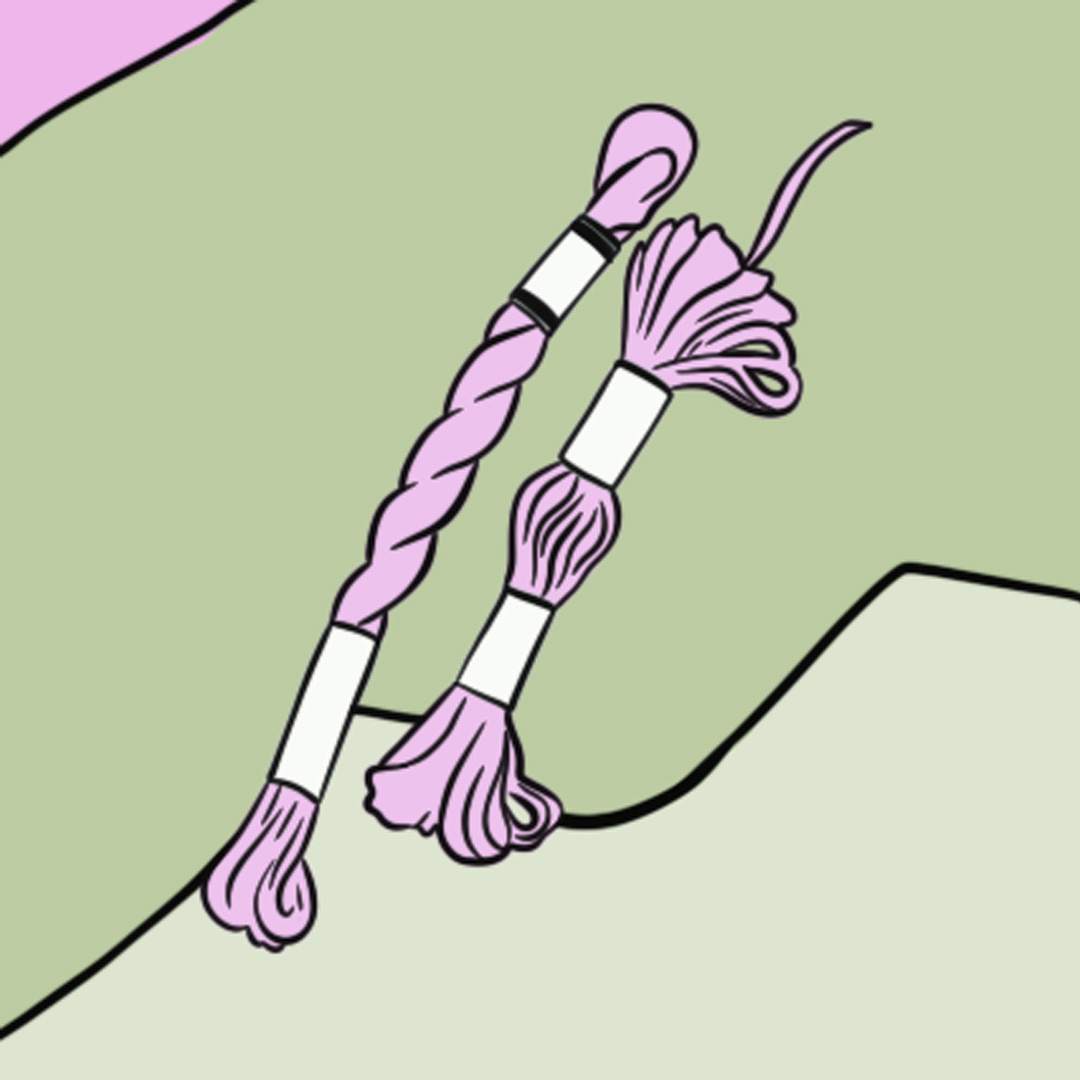 ☆゚・*:.。.☆Embroidery Circle | Re-embroidering Language☆゚・*:.。.☆
I would like to introduce an Embroidery Circle at the Hopepunk Summer Camp as a recurring activity and space for slow and tactile expression. By looking at embroidery as a soft craft, we try to find new ways of creating together. As we reclaim a tool of patriarchal oppression, we look at its history and potential for resistance, empowerment and expression. Using this handicraft to focus, unwind and be in the moment. Moreover to follow threads, deconstruct patterns, understand connections, trace relationships, manifest new haptic forms and entangle ourselves with each other.
Re-embroidering Language & Typography
I would love to reflect with you on the language we use, the meaning of words, how our spoken and written words reproduce stereotypes, hierarchies and gender roles. To then be able to deconstruct and re-imagine sentences, words or glyphs with means of embroidery. I can talk specifically about my experience and tools for gender-sensitive language and typography. Language shapes our reality, so let's reshape it on fabric. We will but re-embroidering new forms of language and expression, slowly materializing glyphs that include instead of excluding – evolving into a network of thread connections and haptic manifestations. This theme can be an inspiration for conversations and embroidery content. The process will be fluid and the theme can evolve as the sessions go on, flowing with the energy of the camp and what inspires us in the other activities.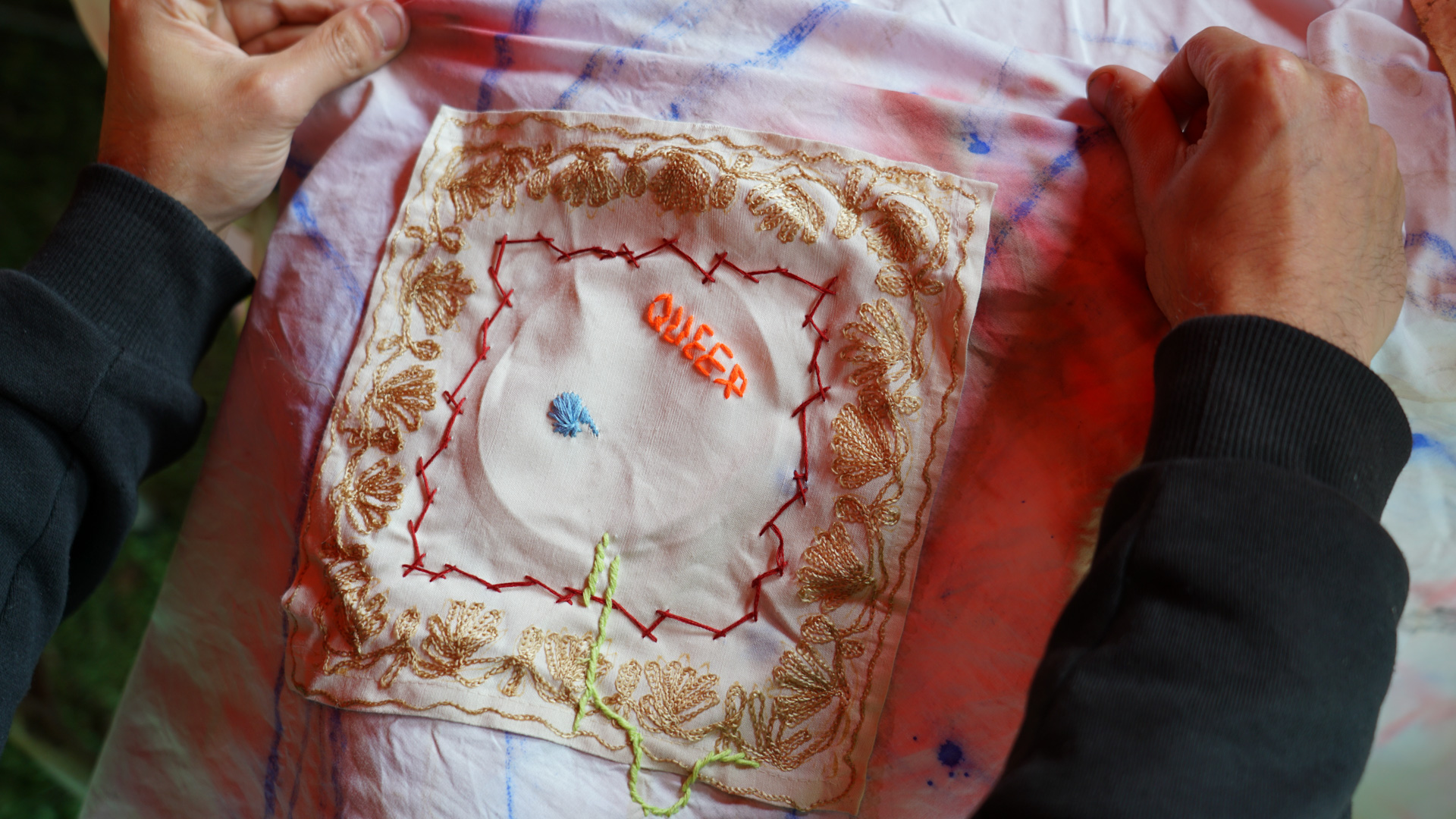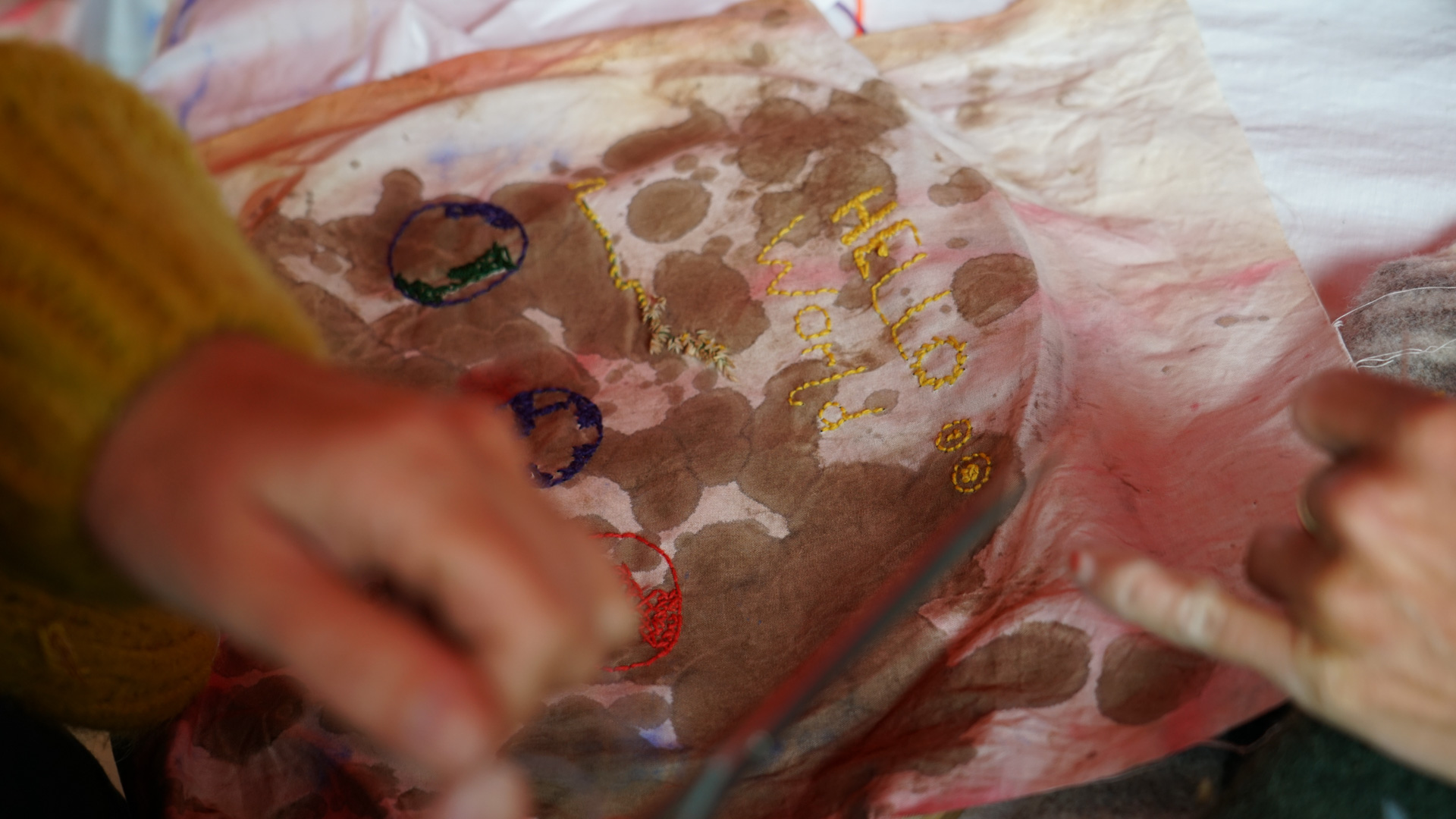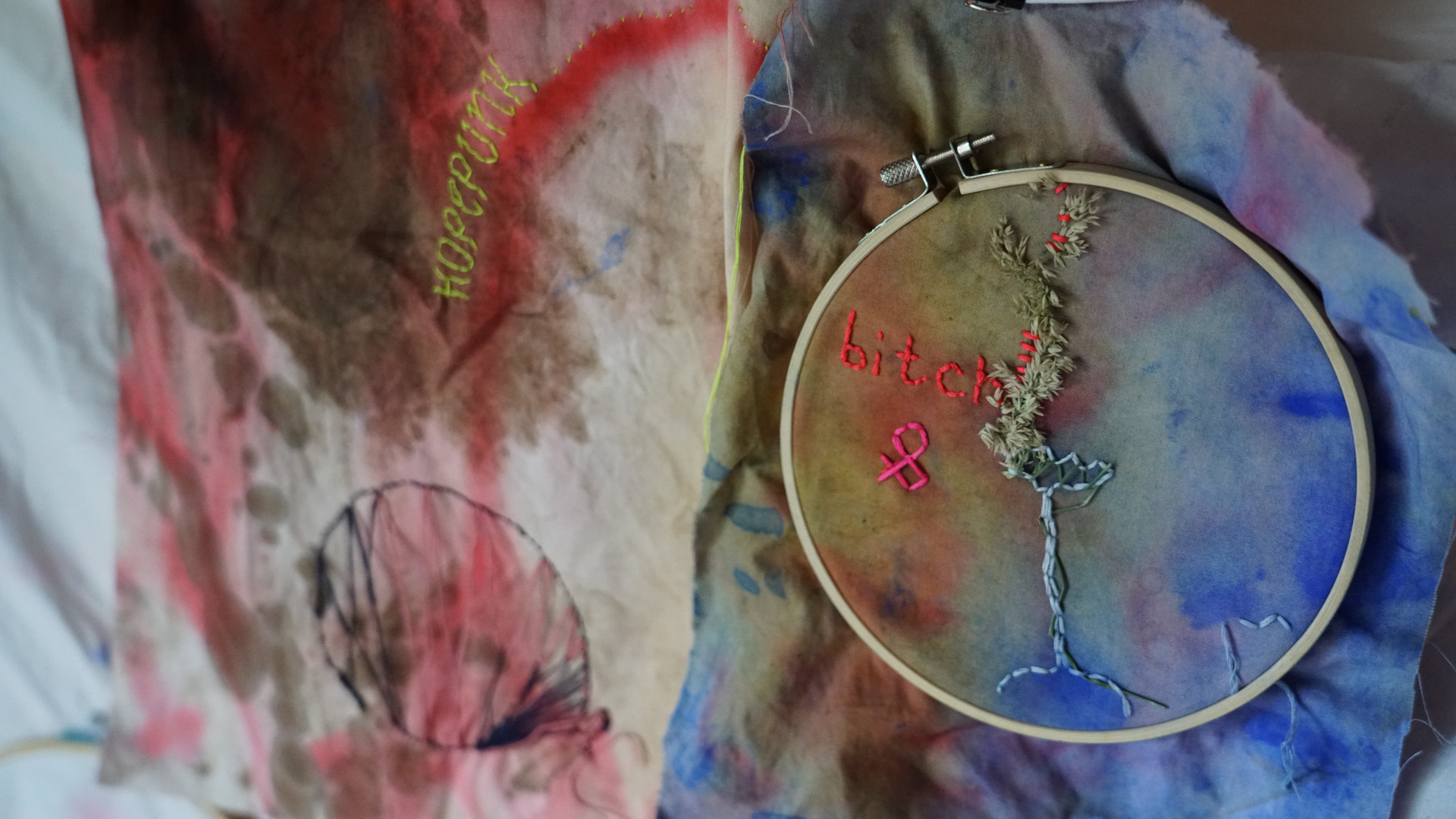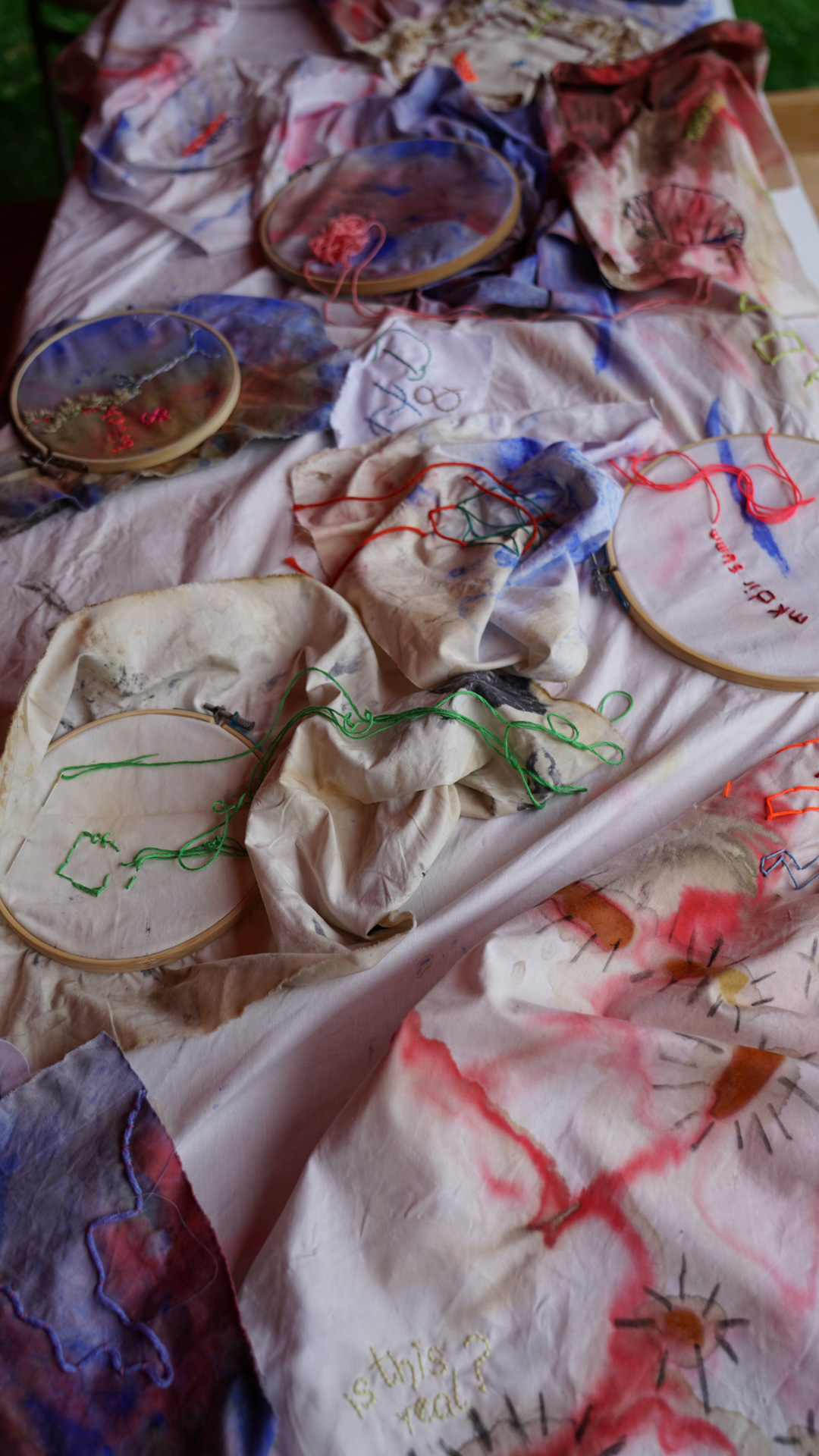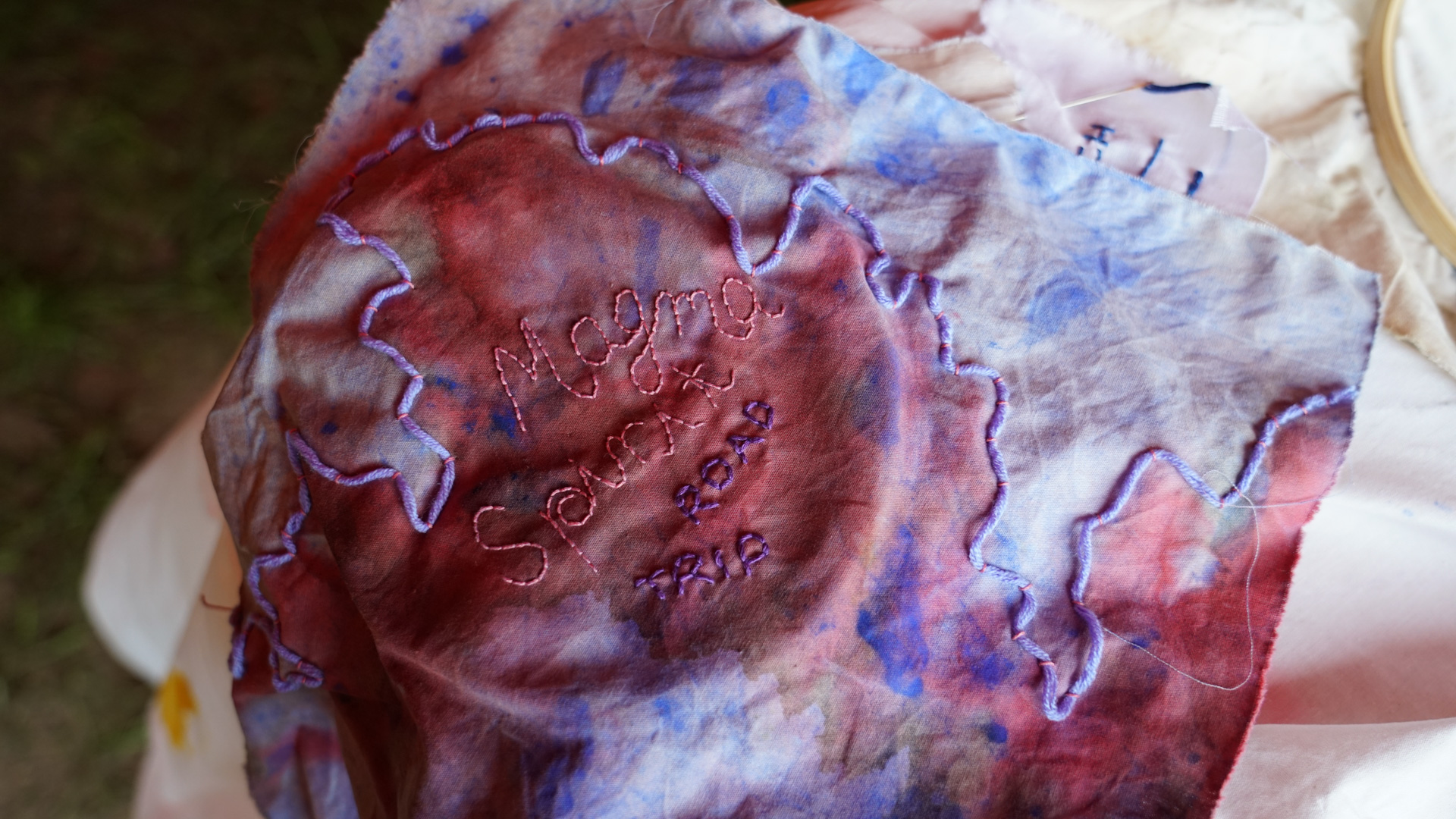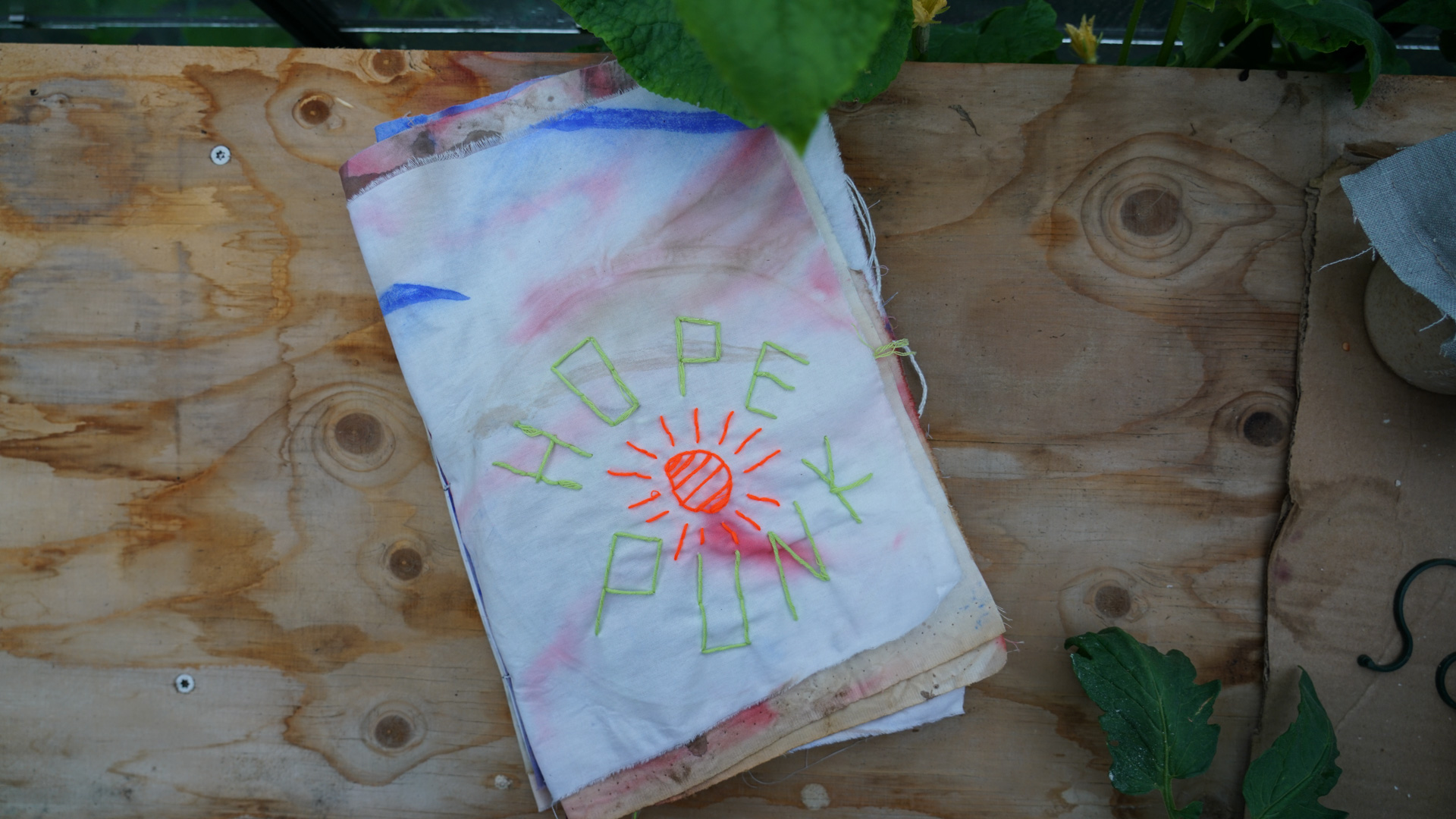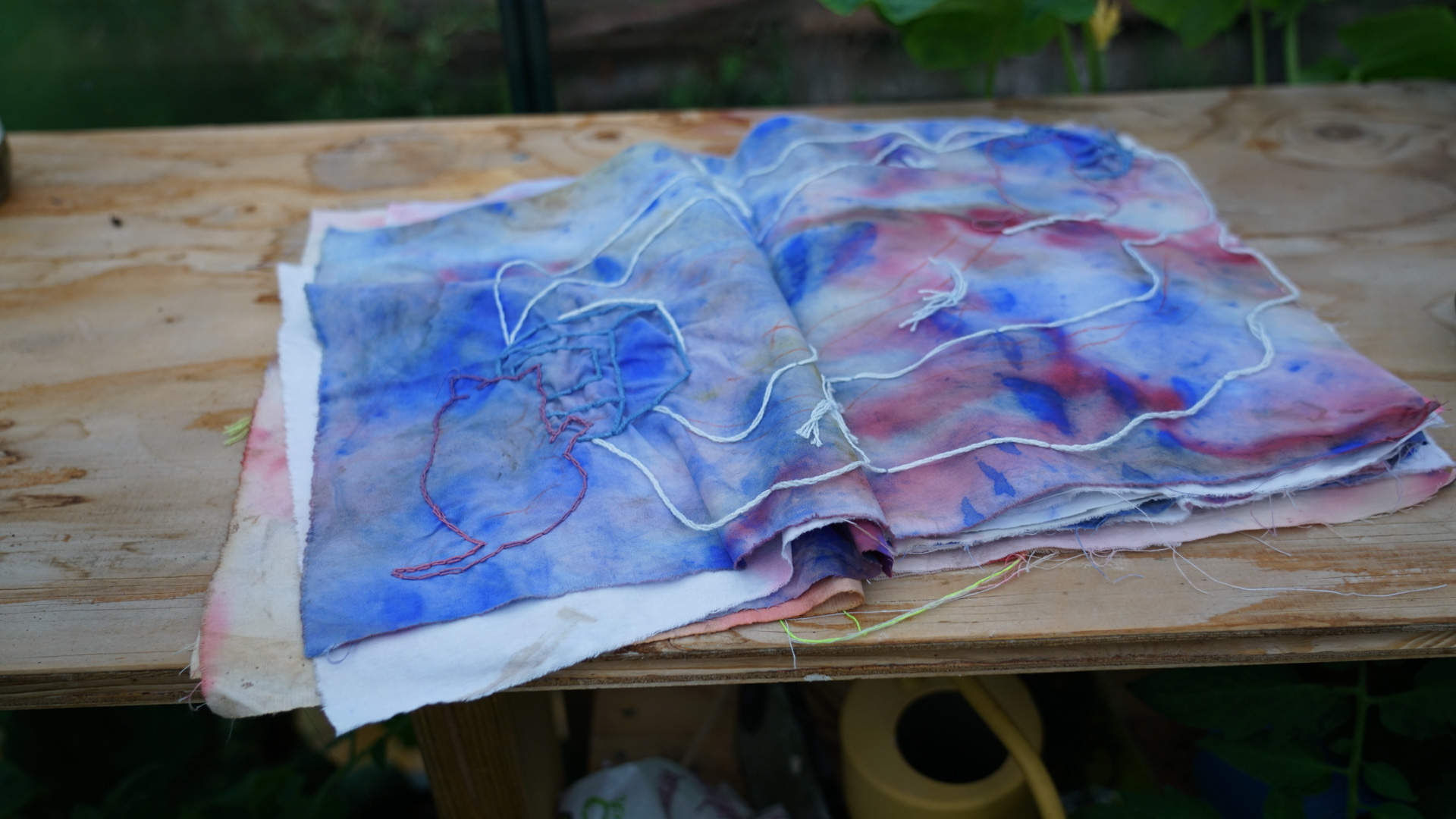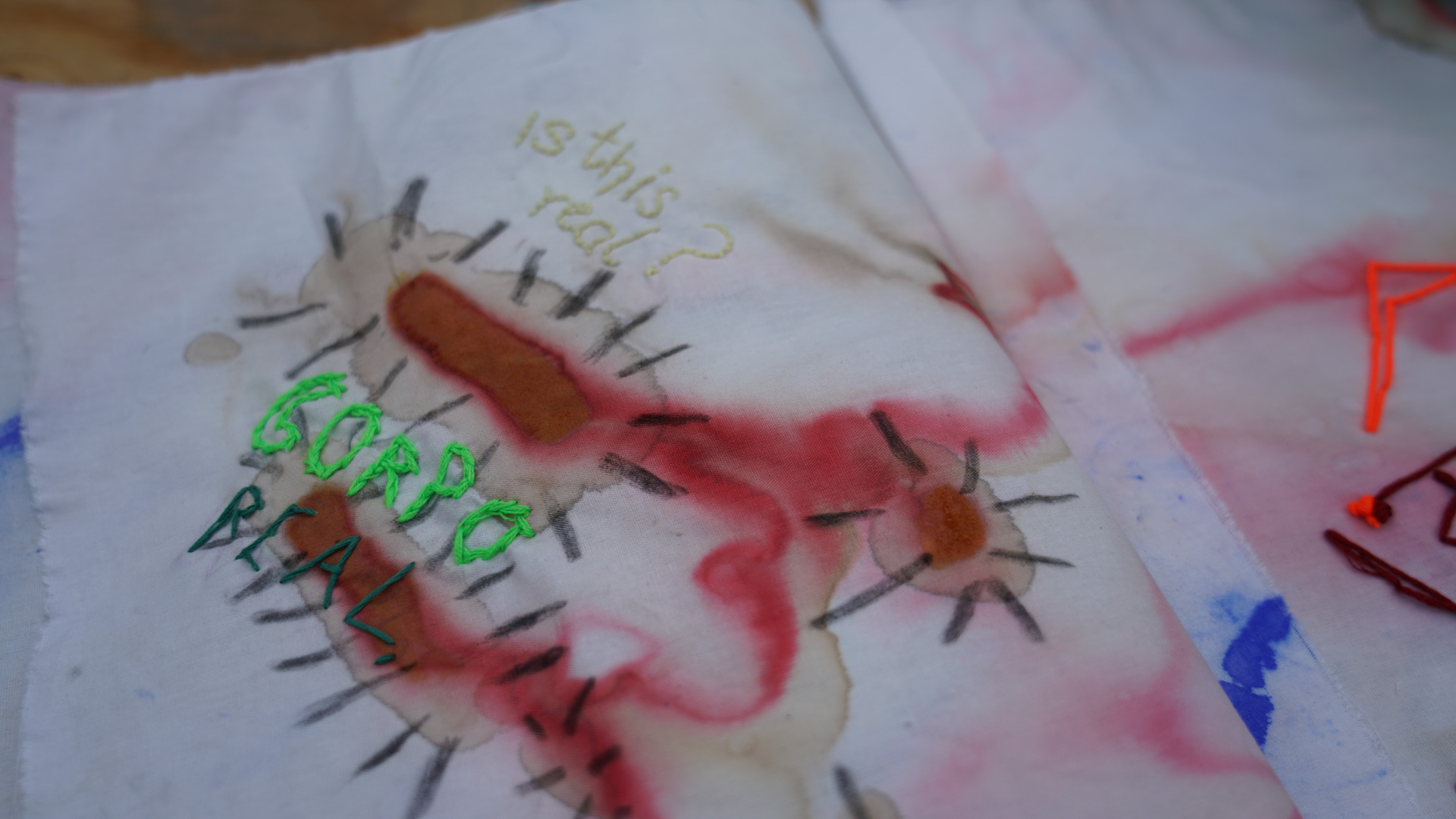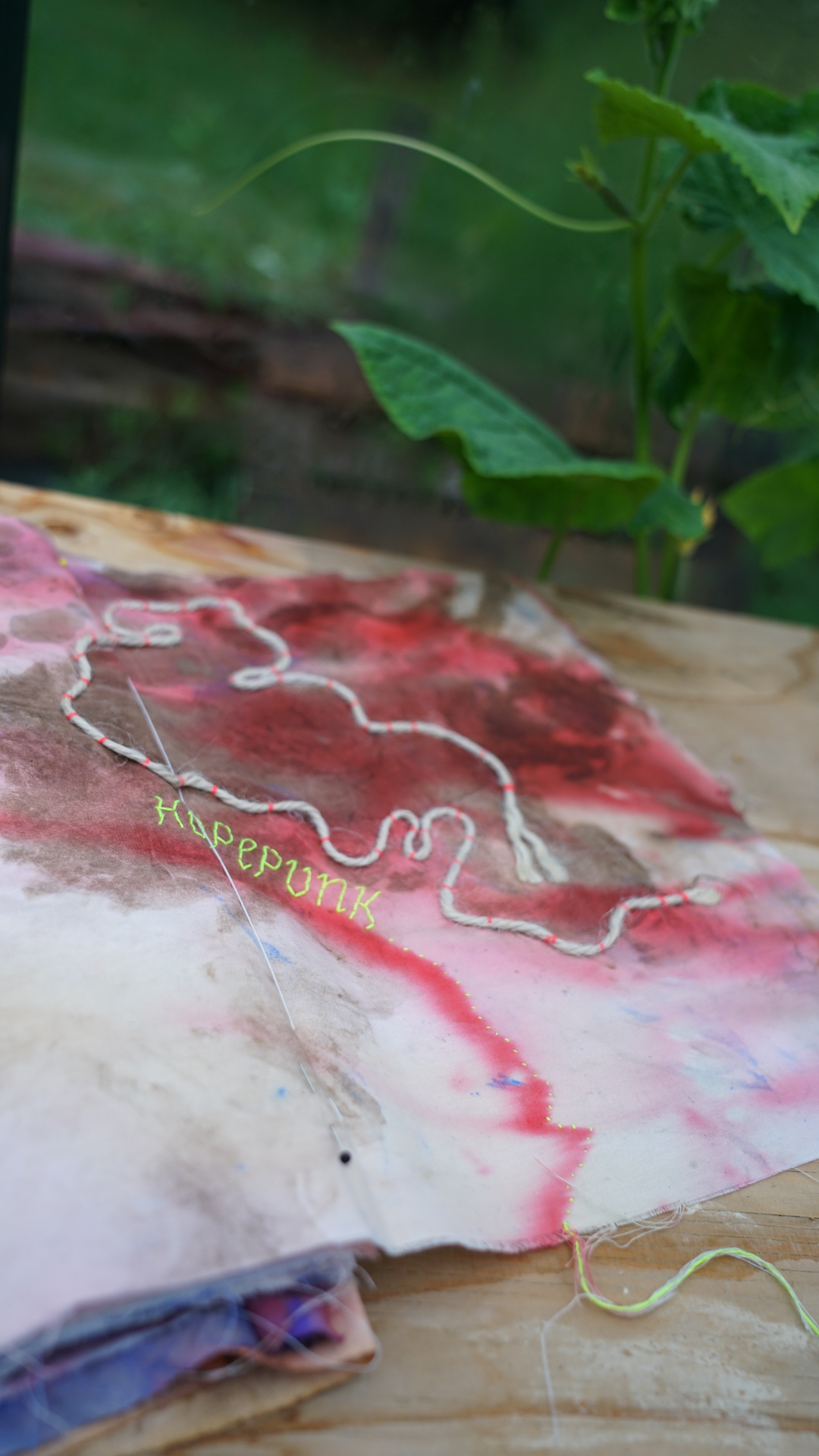 The Embroidery Circle will have different phases which can be repeated
Introducing: I will give a small introduction to different embroidery techniques.
Meditating: A round of free stitching to get comfortable and be mindful.
Exchanging: Using needlework as a way to concentrate during a conversation, following spoken word with needle and thread.
Continuing: Re-embroidering language
Duration
Each Session lasts 1–2 hours. After an introductory session we can continue embroidering on our own and meet in recurring circles every few days.
Participants
A circle of 8–12 people would be very nice. If more people want to participate we can split up in smaller groups which embroider together with smaller inputs from me. Each session would be open for new people to join and contribute in their thoughts and threads.
Setting
We will need a place to sit at a large table or on the ground, whatever is comfortable for everyone. Enough light is very important, so it might be more of a daytime activity.
Material
Paper, pens, fabric, yarn and embroidery hoops. I will bring a base stock of everything and about 10 embroidery hoops, but your own fabric scraps and textile tools are very welcome.
Accessibility
Please let me know if you think, that you will not be able to participate in the workshop because of a limitation. I will try to make it accessible to all of you <3 You can bring other forms of slow textile expression, such as crochet, knitting or patchwork, if you feel more comfortable with these.
Outcome
The circle does not necessarily need to have an outcome, the process is much more important. But I think I would like to work towards an embroidered journal or manifest that summarises our thoughts on deconstructing and re-building language. We can decide to work alone on small pieces or together on a large one. It can become a collective blanket of word-revolutions or a soft book made out of future fabric.
Bio
Hi, I'm Laura (all pronouns welcome) I recently finished my bachelor's degree in graphic design in Münster, Germany. In my design practice, I explore different realities of life, locate them in a social context and illuminate them from a queer-feminist perspective. The use of typography and its contact with photography and the moving image play a central role. I enjoy playing with language, exploring its fluidity and breaking its binarity. I have a great love for the tactile nature of analogue media, especially books. Therefore, I try to translate these mediums into social spaces. Collaborative working is essential to my practice. At the moment, I'm very interested in feminist science fiction stories and their potential to offer us new perspectives on the future – so I am very much excited about the topic of hopepunk. In September, I will start the master's program Non Linear Narrative at KABK The Hague.