On & Off the Grid Publication
On &/ Off the Grid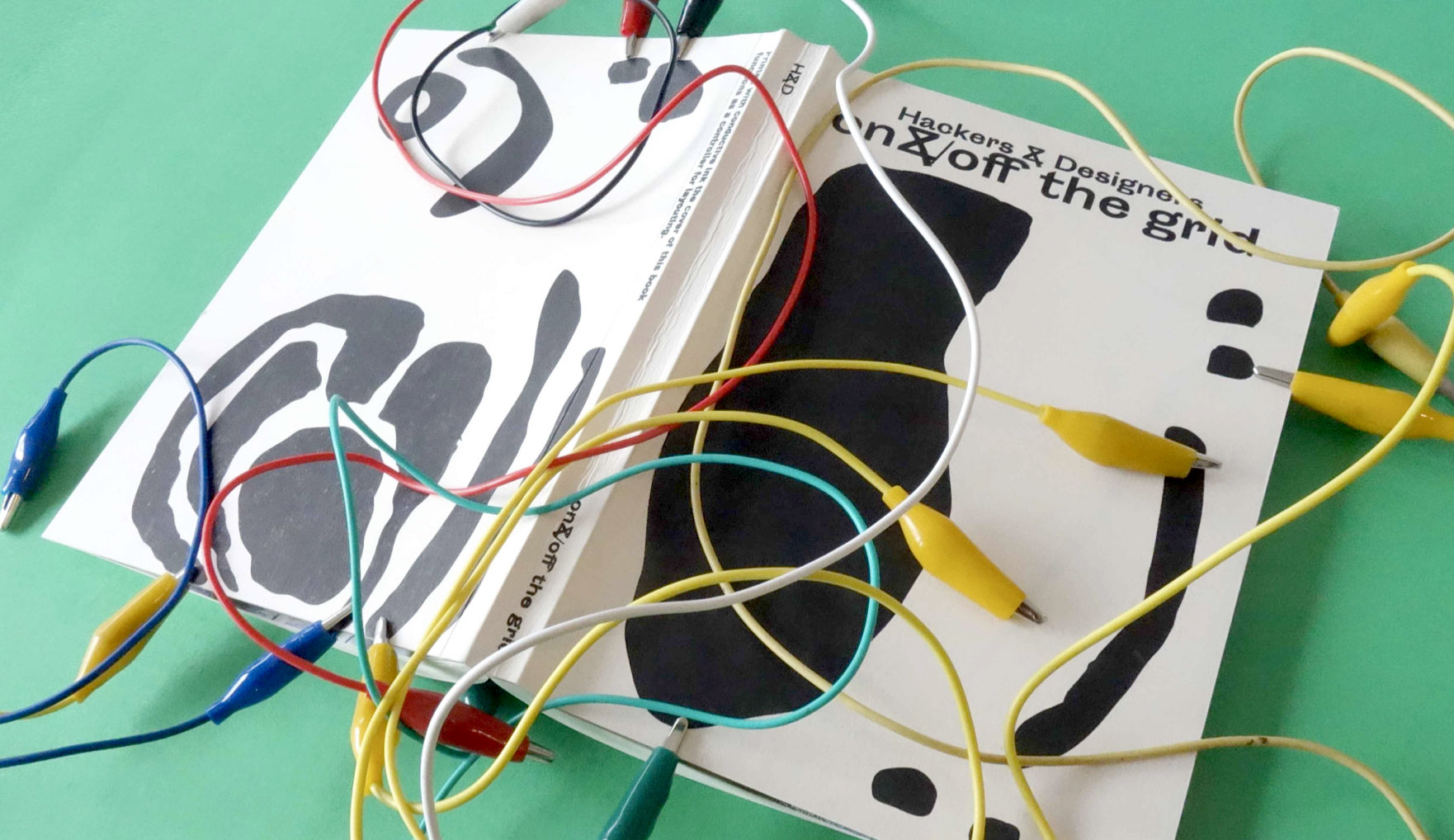 In 2017, Hackers & Designers investigated forms of dependence and obedience to technologies embedded in our daily working and living environments. In developing an elaborate hands-on program throughout the year, which peaks around July and August during the H&D Summer Academy (HDSA2017), we posed questions such as: How can we, as modern nomadic workers who often do not differentiate between work and private life, look critically at infrastructure, networks, and systems that we rely on? Are we, as steadily connected (net)workers, capable of disconnecting from existing grids? Can we rethink and build self-sustaining environments that shape our future practices in unexpected ways?
Hackers & Designers reflects on their activities in 2017 in this publication. In particular, we consider the learnings and questions raised during the investigation of processes of going on and off the grid. Taking this publication as an opportunity to reach out to the amazing beings who have collaborated with H&D in 2017, we aim to push forward self-initiation and hands-on and self-directed approaches to research – and to open up insights and discussions with other individuals and collectives.
As Hackers & Designers bridges disciplines and cultures, we are always looking for metaphors and concepts that address technology critically yet leave space for engagement on different levels. We approach the notion of the grid quite openly – for instance, as a metaphor for social connectivity as well as in the context of straightforward energy grids and information networks. Some of our participants are not experienced with the hands-on hacking approach. We notice that relatable topics and humorous means help lower the barrier to understanding technology as potentially transformable. By adding an accessible yet critical component, makers and thinkers get a chance to meet, work together, and confront each other. The common theme of investigating means of going on and off the grid functioned as a form of glue in that context, holding together approaches and ways of thinking that would usually conflict or disregard each other. The starting point for developing a program around the notion of *getting prepped* came about during quite a cliche outdoor experience in California. Cutting costs via camping but not being particularly outdoor-types, we were confronted by our lack of survival skills. This experience spurred some of the following reasons to go off the grid (in no particular order):
To practice independence
To self control
To detect alternatives
To research alternatives
To use alternatives
To train consciousness
To change the pace
To count our blessings
To save money
To spend money
To break free from money
To be agile
To meet like-minded people
To eat differently
To spark curiosity
To be assertive
To be responsive
To change perspective
To be free
To be flexible
As a result of the efforts to consciously and critically connect and disconnect, H&D has started questioning some of its own habits as an organization including micro-economies and dependencies. H&D is yet another organization engaging in now-arcane processes, such as writing long funding applications. More developed means of communication have resulted in the perception of H&D as a professionalized or institutionalized collective. H&D is often approached as if it has structural means and steady staff. Furthermore, H&D is expected to grow as an organization. But, what do we want H&D to actually grow into? Is H&D trying to be an educational institution, an agency, a think-tank? And what are the consequences?
This collection of texts addresses the often conflicting routes that influence the questions, actions, and future structure of Hackers & Designers.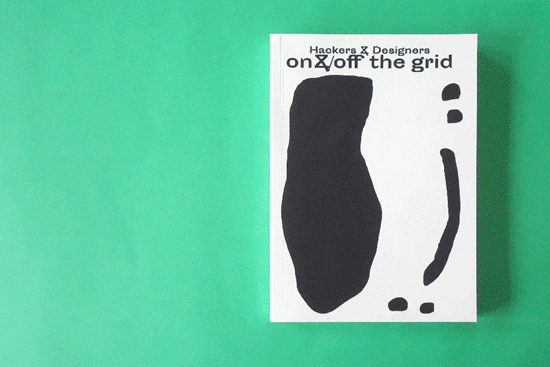 I have had the honor of co-editing and copy-editing this collection of texts, a reflection of Hackers & Designers' activities and occupations in 2017. The range of content is what initially struck me. We have Wiki page process-docs and workshop-sharings, radio-Skype-in-person interviews turned transcript, art statements, art works, and questionnaire testimonials. With the premise of *going on and off the grid*, there is an overarching investigation of what being together can look like through the objects and systems of basic needs and social exchange - food, shelter, water, clothes, emotional support, community investment, labor practices, transportation, utilities, money and valuation. Questions that many authors of this compilation grasp at are the tensions between work and life as a critical maker, between individual drive and collective actions, autonomy and material realities. Fortunately, these meta appraisals come with a lightness as they arise from doing: inspecting the stuff around us and taking things apart and putting other things together...i.e., hacking.
The H&D community has varying spirits towards the reality of ethics a person can extend. Joana Chicau states that "It's not easy to be critical in multiple ways in one's practice...This holistic approach is hard to find and hard to practice." Alternatively, Jon Kyle emphasizes how deeply personal the environment of the internet is and encourages designers to jump into Peer2Peer head on to make locales amongst its over-corporatization - "What does a neighborhood on the internet look like?" Ivanka Annot refuses to "pay rent with [her] life" and adopts prefigurative politics as her way of life and art, building replicable and scalable systems within legal loopholes. As Annot puts it, "you create what you want to see happening in the future. Instead of protesting to what is happening now, you prefigure it. You give it a shape, you make it happen." Bongani captures a crucial reality - "There isn't some consistent ethical approach to doing something good and positive...material conditions, the conditions of life, require you to carve out what your priority is - you must focus on one impact...[and you must be] content with that decision."
Ultimately, whatever energies motivate the fight for ethics in our livelihoods and beyond, and however much we can teach ourselves alone and with the aid of internet connection, there is the need for others in making systems that more accurately reflect ways of living that are not yet feasible or envisioned in the grids of society-at-large in which we are positioned. Reliance on popular grids oft reinforce individualist society, yet pursuing to critique and effect change to the systems in which you are embedded can also be isolating. This is a lived obstacle, as experienced by Vicky de Visser's Off the Grid Amsterdam Boat Life Project, in which she found that there were "Too many hardships to be managed and controlled without the support of a community equally invested in a shared, off-grid system."
As many of the experiences from HDSA17 indicate, collaboration is work - the work of mediation, communication, and management of individual drives. Daniela Rota and Meike Hardt (m—d—buero) share that "It is always about the negotiation of disciplinary differences. You push your own disciplinary borders by unlearning habits to make space for the other." From the friction and discomfort of different group member goals, Loes Bogers' developed reflective practices "about inhabiting shared spaces of learning that [she] now uses in [her] teaching practice." Perhaps these are other forms of prefigurative politics in consciousness-raising - the potential for resignation to others as constituting and supporting a grid's weave as civic life.
Another practice of congregation is the language of these texts. The majority of the writings were done in the non-native tongue of the writer or interviewers/ees. In editing, this was felt as an expansion and detailing of a language in common, rather than a flattening of cultural linguistics or universalization. In copy-editing, I aimed to retain these intricacies through which the author's essences of thought, presence, and enthusiasm run and with the hopes to highlight a heterogeneous cohesion as the collection's underbelly.
As well, I aimed to point back to how these texts came to be together within a community grounded in web technologies. The texts were written by the tech-minded's formulation of sharing information - with readers with a screen and internet connection. The writings were rich in hyperlinks. I wanted to keep the interchange between the digital and print on the surface by keeping hyperlinks within the texts as much as possible within the parameters of printing using the PJ Machine. Formalities of style and formats are equally sites to be changed to more accurately reflect the use and access of content. Citations are influenced by APA, but have been ridden of redundancies such as "link accessed at." While there is a core goal of sharing enough information to accurately and clearly reference authorship, the formatting, style, and citations of this publication are meant as an adaption to the creative works that constitute it.
More about the style and format guide may be found here: https://wiki.hackersanddesigners.nl/index.php/Style_&_Formatting_Guide
Content
Automatizing Professionalization
Collective Outro by Selby Gildemacher, James Bryan Graves, and Anja Groten (Hackers & Designers)
Hackers & Designers has been seeking to challenge organizational concepts by asking questions such as: how can we share differently, what channels can we eliminate, what are the bare necessities?
As a result of the past year's explorations, experiences, and challenges, James proposed to deprofessionalize Hackers & Designers. Starting as a mini-manifesto, he turned his provocative proposal into a concrete cooperative model at the beginning of 2018. The Hackers & Designers Coop is a workflow model for collaborative organization based on fiscal democracy and divides and distributes responsibilities among members. The H&D Coop is a hands on exploration of blockchain technologies, leveraging smart contracts as a means to automate tedious processes of administration and tiring assemblies. The administrative overhead had been carried around as an awkward baggage for too long. With the Coop platform running on H&D's private blockchain, H&D gets to experiment with a somewhat popularized and mystified technology in a critical way while experimenting with its own organizational structures and habits.
More about the Hackers & Designers Coop here!
Credits
On & Off the Grid
Published by Hackers & Designers
Edition curated by Anja Groten and Juliette Lizotte
2018, Amsterdam
All sources referenced in this publication were accessed during 2017.
Design Anja Groten and Juliette Lizotte using the PJ Machine by Sarah Garcin.
The PJ Machine, Sarah Garcin Nowadays, the free software movement and the diversity of open source tools encourage designers, artists, and developers to question the nature of the tool they are using and its place in their creative process. They are invited to learn, modify, and create their own tools. Creating tools forms an integral part in the work of a graphic designer. The tool shapes the work. Can we imagine new kinds of publishing tools that change the way we present our works, create printed matter, and more? Sarah Garcin tries to answer this question by creating the PJ Machine (Publishing Jockey Machine), a box with arcade buttons to control web interface for live publishing. The Machine allows the creation of a layout design with text and images and the generation a pdf to print. The participants of HDSA2017 were invited to imagine and prototype new and open source publishing tools. The tools created during the Summer Academy offer new kinds of interactions and revolutionize the publication process.
Images All images were taken during the Summer Academy 2017 by Jorge Bakker or provided by the author of the text unless otherwise specified.
Typefaces Libre and open source typefaces from Velvetyne Type Foundry Bilbo by Hélène Marian Srodogora Trickster and Bluu Next by Jean-Baptiste Morizot Hyper Scrypt and Solide Mirage by Jérémy Landes Sporting Grotesque by Lucas Le Bihan Résistance by A collective Gulax by Morgan Gilbert Fengardo Neue by Loïc Sander Blocus by Martin Desinde
Printing Stencilzolder, Amsterdam - Cover silkscreen by Wyber Zeefdruk, Amsterdam
Binding Hennink, Amsterdam
Editor Genevieve Costello
Copy-Editor Genevieve Costello
Coordination Juliette Lizotte
Supported by