30.07.2017——11.08.2017
HDSA2017 - On and Off the Grid
10:00-18:00
De Ruimte, Vondelbunker, Mediamatic
w/ Gottfried Haider, Sarah Garcin, Bongani Ricky Masuku, The Things Network, The Center for Genomic Gastronomy, Sjef van Gaalen
Investigating means of going on and off the grid
In order to bring the diverse disciplines together in a meaningful way, the HDSA2017 program focused on the thematic thread and the process of going 'on and off-the grid', – a crucial societal topic and ongoing discussion at stake in both design/art and developer practices.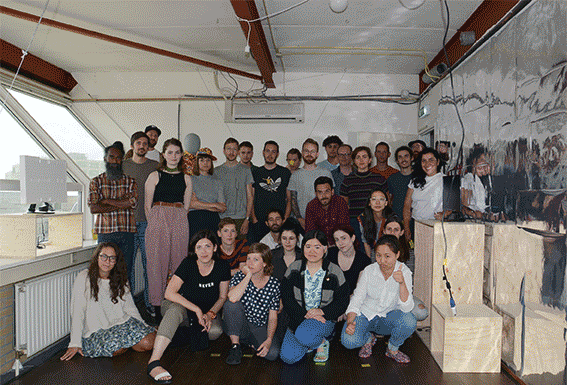 By developing an elaborate hands-on program H&D invited the Summer Academy participants to reflect and question dependence and obedience of our daily work and living environments. How can we, as modern nomadic workers who often do not differentiate between work and private life, look critically at infrastructure, networks and systems we rely on? Are we as steadily connected networkers capable of disconnecting from existing grids? Can we rethink and build self-sustaining environments that shape our future practices in unexpected ways?
The program challenged and activated the participants to use and push the boundaries of existing technology and programming platforms (web, hardware, software), networks online/offline (internet, deep web, darknet, peer 2 peer, blockchain), and user experience, all in a practical manner while incorporating content matters and ethical consequences of the proposed technologies and processes.
Program
The 2-week workshop program ended with an exhibition accompanied by a public lecture program at Mediamatic in Amsterdam.
Participants: Arjan Adriaanse, James Aspey, Loes Bogers, Michaela Büsse, William Eckerstein, Abel Elkaar, Juan Gomez, Meike Hardt, Kimberley Halsall, Chya Hsu, Hannes Hulstaert, Lucia Kolesárová, Amanda Lewis, Dijon Lin, Jasper van Loenen, Cyrus Longonné, Kris Madden, Jannete Mark, Konstantin Mitrokhov, Dorian de Rijk, Daniela Rota, Lacey Verhalen, Sijing Zhang, Eric van Zuilen.
DIY (Do it yourself) & DIT (Do it together)
In order to develop a deeper understanding of the qualities and disadvantages of technology we need to look inside the black boxes of the technology that we heavily rely on in our daily physical and digital, and our private and professional lives. Therefore a hands-on approach and the challenges that come with making stayed central throughout the whole program. We urged the participants of the summer academy to collaborate in opening the box, look inside it, rummage through it or even make their own boxes.
H&D believes designers and artists should be empowered with the tools of the digital realm including coding and hardware usage and construction. Conversely technologists should be more comfortable and effective in engaging in creative processes through familiarity with the vocabulary of designers and artists. All disciplines should become more comfortable in theoretical and social discourse, and thus be asking questions such as should we instead of can we.

Look back at the summer program and exhibition with Ja Ja Ja Nee Nee Nee.

H&D and the H&D Summer Academy 2017 public program are kindly supported by:

Thank you Spectral Utilities for providing us with a solar panel trailer.