27.11.2021
Open* tools for collective organizing
10:00-19:00
AHK Culture Club, Amsterdam
w/ Hackers & Designers, Radio EE, Kate Rich, Varia, Majd Al Shihabi, Lucas La Rochelle, Yara Said, The Iridescent Institute of Desire, Moderator
JOIN RADIO EE's stream!

Or, alternatively use this link: http://alonetogether.pub:18000/live
Transcription etherpad https://etherpad.hackersanddesigners.nl/p/hd-open Participate at a distance using the chat! We'll be collecting questions there too :)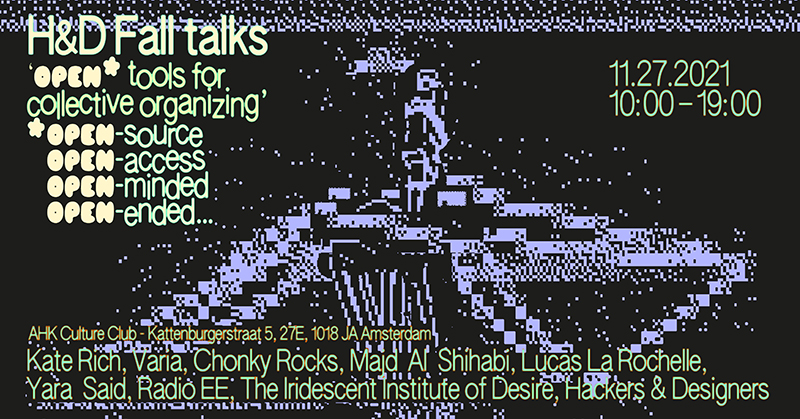 Join us for our H&D Fall Talks! By connecting to other self-organized communities we want to exchange insights on the peculiarities of different tool ecologies, their situatedness, their limits and possibilities. What are the creative and critical potentials of the tools that allow us to organize ourselves as collectives? What are context-specific, social-technical codes and practices involved in collective organizing? What are ways to challenge ourselves and our tools in terms of durability, accessibility, openness, and creative output?

We invite creative practitioners, designers, artists, coders, system administrators, and disobedient users to join us in reflecting and reimagining tool-relationships evolving from community organizing practices.

(*) open-source, open-access, open-minded, open-ended...
(**) such as document writing, content-management, building and maintaining infrastructures, messaging, collaborative spreadsheet making, streaming and broadcasting...

Tickets: 20€ pro, 10€ students. Get your ticket for the whole day (including vegan lunch) here!! Limited capacity (40 participants)
AHK Culture Club: Kattenburgerstraat 5, 27E, 1018 JA Amsterdam
AHK Culture Club is wheelchair accessible. For anyone who is not able to participate live, there will be a live broadcast available hosted by https://radioee.net/ Radio EE]. please contact juliette@hackersanddesigners.nl if you require any additional support to enable your participation.
Timetable
Block 1: 10:30—12:00 File Sharing / p2p / alternative distribution methods / economies?

Block 2 12:15—13:45 collaborative tools
Radio EE (live)
Performance by The Iridescent Institute of Desire for Network Imaginaries (live)
Lunch Break 13:45—15:00

Block 3 15:00-16:30 mapping, (dis)orientation, and storytelling

Block 4 17:00—19:00 4 short workshops to explore the tools introduced before! (sign up during the day, bring your computer :))
workshop by varia
workshop by Lucas LaRochelle
workshop by moderator
workshop by H&D
open end - drinks!

Graphic Design by Juliette Lépineau
With the kind support of