03.04.2023
Open Call! H&D Summer Camp 2023 - HopePunk: Reknitting Collective Infrastructures
Het Wilde Weg
w/ Hackers & Designers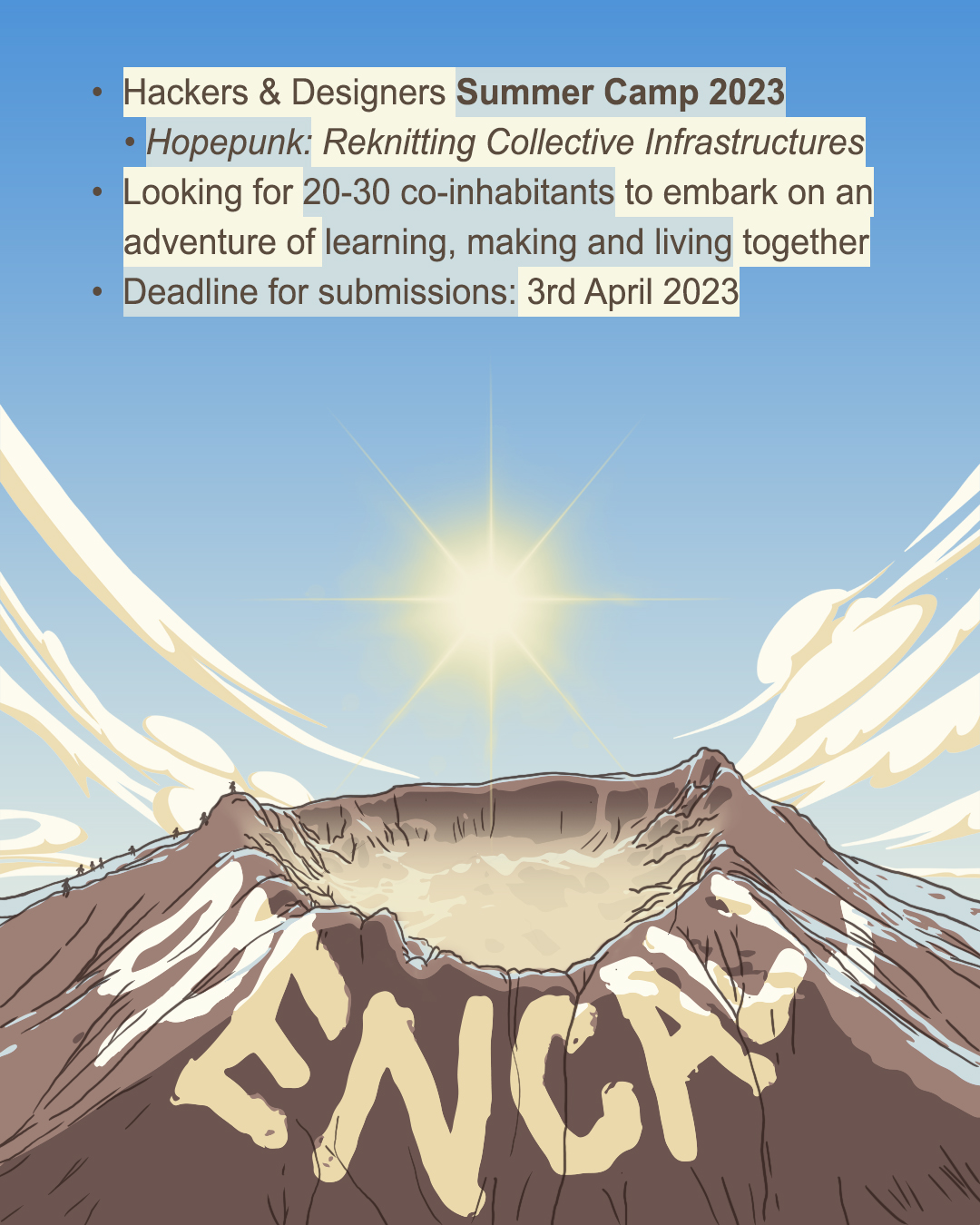 EN
→ Voor Nederlands: scroll naar beneden
HDSC2023: Hopepunk: Reknitting Collective Infrastructures
Dates: 17 – 28 July 2023
Location: Het Wilde Weg, Sint-Oedenrode, The Netherlands
APPLY HERE! --> Deadline for submissions: 3rd April 2023
Hackers & Designers Summer Camp!
This summer H&D are going to inhabit a remote location in the south of the Netherlands and are looking for 20-30 co-inhabitants for our temporary H&D village!
Together we will embark on the adventure of learning, making and living together. With this format we aim for a holistic and intersectional way of thinking about and practicing sustainability (socially, ecologically, economically, culturally) and reknit arbitrary boundaries between work, play, leisure, maintenance and care.
H&D is now open for proposals for a variety of activities that contribute to an overall exhilarating communal experience! More specifically we are looking for hands-on workshops that explore alternative (sustainable, non-extractivist, equitable) technical and social imaginaries. Next to workshop proposals additional activities are welcome such as lectures, film and dance nights, communal dinners, fire place readings, foraging, publishing activities, gymnastics, LARP....
The open call welcomes folks (hackers/designers/makers/artists/developers/activists/inventors/...) of all ages, abilities and backgrounds to propose activities. The BYOW (bring your own workshop) format is an attempt to decentralize curation and organization of the workshop program.
Proposals for hands-on activities should (loosely) relate to the topic of Hopepunk, and can be connected to participants own practice and skills. H&D will take care of the selection process, and invite additional guests whose practice can complement the proposed activities and fits the theme.
Theme: Hopepunk
This years theme and setting of the HDSC responds to the widespread onset feelings of anxiety, uncertainty and dread caused by geo-political tensions, climate crisis and asymmetric distribution of wealth, power, and everyday resources, as accelerated by turbo-capitalist 'innovation' and planetary-scale computation. Supply chains are showing their brokenness. Uncertainty regarding scarcity of resources, energy prices and costs of living are hitting home, literally. The painful awareness of the precarity of our material and immaterial everyday life acts as a constant humming sound.
Surrendering to apocalyptic panic is not an option, as long as the sky hasn't fallen (Haraway, 2016). Until then, we can practice making kin and compost, and rejoice in coming together, knitting and grafting ourselves into new interspecies relations.
With Hopepunk: Reknitting Collective Infrastructures, H&D proposes a critical yet optimistic approach toward desirable techno-social and eco-conscious futures that create connections across differences (age, gender, race, ability, skills, interests, species, materials).
The reference to solarpunk is not accidental. The science fiction literary genre and art movement envisions techno-futures in which humanity succeeds in solving major contemporary problems offering an optimistic outlook paired with hands-on practical approaches. Can oppressive regimes, such as capitalism, authoritarianism, sexism, racism, ableism be undone by solar power? It seems unlikely. Perhaps the core of punk futures lies in the DIY mentality – our capacity for generating pragmatic hopefulness. To find joy in materialization without extraction.
Criteria for selection of proposals
The selection process will be two-fold. We will first review the workshop proposals and then look at requirements regarding accommodation.
There is a limited amount of spaces for participation available that relate to the amount and types of accomodation. The more information you share about your preferences, the easier we can try accomodate your wishes.
If we get more submissions than accommodations available we might need to make a selection.
Please submit your form by April 3 latest.
You will receive a confirmation of reception on April 4.
We will aim for April 12 to announce the final selection.
If you need some extra time or have any questions, please write us info@hackersanddesigners.nl
About the communal campsite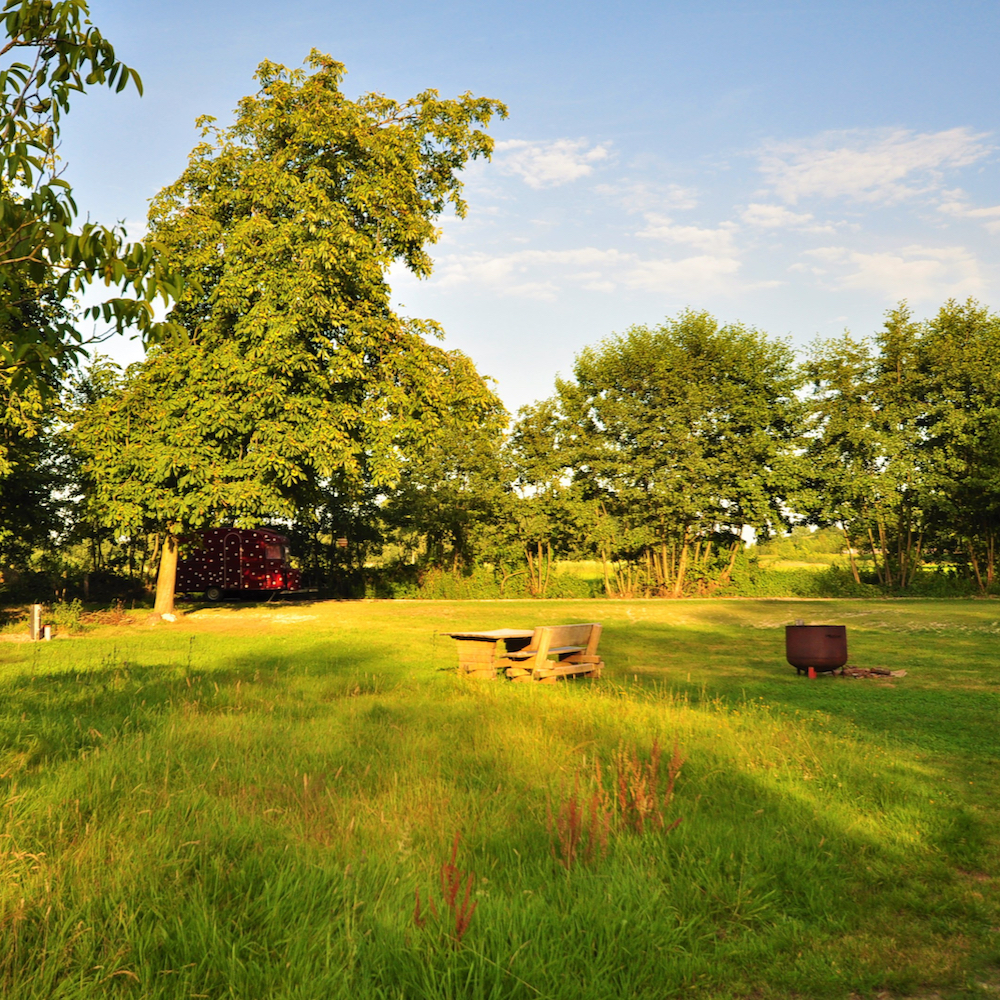 Hackers & Designers has reserved the entirety of Het Wilde Weg, located in Sint-Oedenrode in the Dutch countryside in the middle of the nature reserve Het Groene Woud. In the heart of a luscious ecosystem, we will be able to swim if we get warm, get shade if we need to, get together around the campfire, bbq, jump on the trampoline and watch the stars and the moon with no light pollution! There are communal indoor spaces to host our activities and a projector available for presentations. There is electricity to feed our electronic devices! Two sinks for dishes with hot water, and a communal bathroom with 2 showers. We will share food and self-organize all camp duties altogether as a community. Chickens and cats will be around but other pets have to stay home ;-( There is also a lot of space to withdraw, go on walks and have some private time.
Prices, Accommodation, Food
Participation to the Summer Camp is free of charge but accommodation and food is at your own expenses.
There are various accommodations available with different levels of comfort. In terms of pricing we differentiate between two types of accommodation: Tent (€250pp) / Walls (€500pp). To distribute the accommodations in a manner that suits everyone's preferences and budgets we have added specific questions in the form.
Food will come on top and we estimated around €12/day/person and will be organized on the spot in a decentralized way.
The graphic design for this year's program is made by Sheona Turnbull & Lukas Engelhardt.
HDSC2023 is made possible with the kind support of Stimuleringsfonds.
NL
Hackers & Designers Summer Camp 2023!
Hopepunk: Reknitting Collective Infrastructures
Data: 17-28 juli 2023 Locatie: Het Wilde Weg, Sint-Oedenrode, Nederland MELD JE HIER AAN! --> Deadline voor inzendingen: 3 april 2023
Deze zomer zal H&D een afgelegen locatie in het zuiden van Nederland bewonen en we zijn op zoek naar 20-30 medebewoners voor ons tijdelijke H&D-dorp waar we zullen leren, maken en samenleven. Met dit format streven we naar een holistische en intersectionele manier om duurzaamheid in de praktijk te brengen en erop te reflecteren (op sociaal, ecologisch, economisch, cultureel vlak) en de willekeurige grenzen tussen werk, spel, vrije tijd, onderhoud en zorg te bevragen.
H&D staat nu open voor voorstellen voor verschillende activiteiten die bijdragen aan een opwindende gemeenschappelijke ervaring! We op zoek naar hands-on workshops die alternatieve (duurzame, niet-extractivistische, rechtvaardige) technische en sociale verbeelding onderzoeken. Naast workshopvoorstellen zijn ook aanvullende activiteiten welkom, zoals lezingen, film- en dansavonden, gemeenschappelijke diners, lezingen bij het kampvuur, voedsel verzamelen, publicatie-activiteiten, gymnastiek, LARP....
We verwelkomen mensen (hackers/ontwerpers/makers/kunstenaars/ontwikkelaars/activisten/uitvinders/...) van alle leeftijden, vaardigheden en achtergronden om activiteiten voor te stellen. Met het BYOW (Bring Your Own Workshop) format willen we de curatie en organisatie van het workshopprogramma decentraliseren. Voorstellen voor activiteiten moeten (losjes) verband houden met het onderwerp Hopepunk en verbonden zijn met de eigen praktijk en vaardigheden van de deelnemers. H&D draagt zorg voor een selectieproces en nodigt waar wenselijk extra gasten uit wiens praktijk de voorgestelde activiteiten binnen het thema kan aanvullen.
Thema: Hopepunk
Het thema en de setting van HDSC van dit jaar reageren op het alomtegenwoordige gevoel van angst en onzekerheid dat wordt veroorzaakt door geopolitieke spanningen, klimaatcrisis en asymmetrische verdeling van rijkdom, macht en alledaagse middelen, versneld door turbo-kapitalistische 'innovatie' en planetaire schaalberekening. Globale toeleveringsketens vertonen bijna dagelijks hun gebreken. Onzekerheid over schaarste aan middelen, energieprijzen en kosten van levensonderhoud zijn akelig dichtbij.
Besef van ons precaire bestaan fungeert als een zoemend geluid op de achtergrond. Toegeven aan apocalyptische paniek is geen optie, zolang de hemel niet is op ons is neergestort (Haraway, 2016). Tot dan oefenen we in het maken van verwantschap en compost. We verheugen ons in het samenzijn, samenbreien en verweven van onszelf in nieuwe intersoortrelaties. Met Hopepunk: Reknitting Collective Infrastructures, stelt H&D zoeken we op kritische maar optimistische wijze naar wenselijke techno-sociale en eco-bewuste toekomsten die verbindingen creëren over verschillen heen (leeftijd, geslacht, ras, bekwaamheid, vaardigheden, interesses, soorten, materialen). De verwijzing naar solarpunk is niet toevallig. Dit science fiction genre en kunstbeweging schetst techno-toekomsten waarin de mensheid erin is geslaagd grote hedendaagse problemen op te lossen. Het biedt een optimistisch perspectief, met een praktische insteek. Kan zonne-energie onderdrukkende systemen zoals kapitalisme, autoritarisme, seksisme, racisme en validisme, ongedaan maken? Het lijkt onwaarschijnlijk. Misschien ligt de kern van punk toekomsten in de doe-het-zelf mentaliteit - onze capaciteit om op een pragmatische manier hoopvol te zijn. Om plezier te vinden in creëren zonder te vervallen in extractiepraktijken.
Tijdslijn:
Het selectieproces zal in twee stappen verlopen: we zullen eerst alle workshopvoorstellen lezen en kijken naar ieders wensen en behoeftes rondom accommodatie.
Op het moment dat er meer aanmeldingen zijn dan dat we accommodaties beschikbaar hebben moeten we mogelijk een selectie maken. Hoe meer informatie wij hebben over je voorkeuren, hoe beter we hier rekening mee kunnen houden.
Uiterste datum van indienen: 3 april 2023.
Op 4 april sturen wij ontvangstbevestigingen, en we streven ernaar om een eventuele selectie op 12 april bekend te maken.
Heb
je wat extra tijd nodig? Laat het ons weten: info@hackersanddesigners.nl
Hackers & Designers heeft de volledige camping Het Wilde Weg gereserveerd in Sint-Oedenrode (midden in het Nederlandse natuurgebied Het Groene Woud). In een weelderig ecosysteem kunnen we zwemmen als we het warm hebben, de schaduw opzoeken, samenkomen rond het kampvuur, barbecueën, trampoline springen en naar de sterren turen zonder lichtvervuiling! Er zijn gemeenschappelijke binnenruimtes om onze activiteiten te organiseren en er is een projector beschikbaar voor presentaties. Er is elektriciteit om onze elektronische apparaten op te laden. Er zijn twee wastafels voor de afwas met warm water, en een gemeenschappelijke badkamer met 2 douches. We zullen samen voedsel delen en alle dagelijkse taken als gemeenschap zelf organiseren. Kippen en katten zullen in de buurt zijn, maar andere huisdieren zijn helaas niet welkom ;-( Er is ook veel ruimte om zich terug te trekken, te wandelen en wat tijd voor jezelf te nemen.
Kosten, accomodatietypes, maaltijden
Deelname aan het zomerkamp is gratis, maar voor accommodatie en eten worden kostprijzen in rekening gebracht.
Er zijn verschillende accommodaties beschikbaar met verschillende niveaus van comfort. Qua prijs differentiëren we tussen twee soorten accommodatie: Tent (€250pp) / Muren (€500pp). Om de accommodaties te verdelen op een manier die voor iedereen geschikt is qua voorkeuren en budgetten, hebben we specifieke vragen toegevoegd in het formulier.
Het eten komt daar nog bovenop en we schatten ongeveer €12/dag/persoon en zal ter plaatse decentraal worden georganiseerd en afgerekend.
Het grafische ontwerp voor het programma van dit jaar is gemaakt door Sheona Turnbull & Lukas Engelhardt.
HDSC2023 is mede mogelijk gemaakt door het Stimuleringsfonds.