23.11.2022——27.11.2022
First, Then… Repeat. Workshop Scripts in Practice
13:00-18:00
Page Not Found
w/ Hackers & Designers, The Hmm, Page Not Found
Book presentation & workshops
Page Not Found
Boekhorststraat 126-128,
Den Haag
🔥Thursday, 24 November, 13.00–18.00:

Installation open, book on view and for sale in the Page Not Found bookstore

🔥Friday 25 November, 13.00–18.00:
🔥Saturday 26 November, 12.00–16.30:
🔥Saturday, 26 November, 17.00–19.30:

Public program: Book launch and presentations by fanfare, Gabriel Fontana, H&D and Stefanie Wuschitz

🔥Sunday 27 November, 13.00–18.00: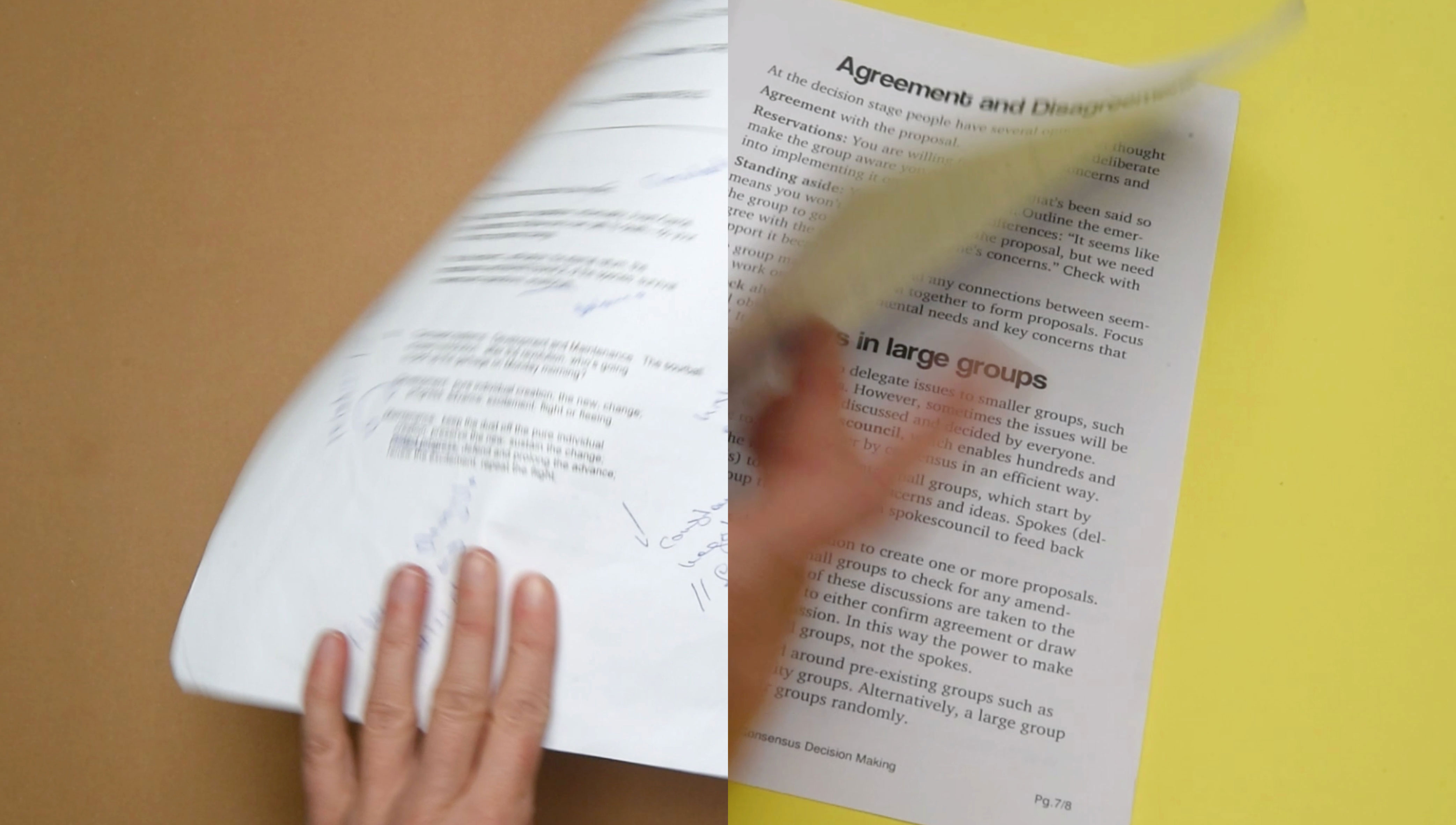 First,
Then...,
Repeat.

Workshop Scripts in Practice

is a on and offline publication that assembles self-published and unpublished workshop scripts that evolved in and around the collective ecosystem of Hackers & Designers (H&D). H&D has been organizing workshops since 2013, and along the way has established social-technical affinities that are loose and stable, temporary and ongoing. We met and befriended many practitioners and sister organizations since, and got acquainted with manifold, peculiar pedagogical formats, and experimental approaches to working, learning, and being together. This publication derives from an enthusiasm for the various ways collective learning environments take shape. It grew out of a curiosity for the ways that such practices are shared across different localities, timelines, and experiences.
H&D will take the occasion of the book launch to present, activate and reflect on workshop scripts in practice. The book will be on view and for sale, and we will host several workshops that are open for visitors to join.
Book launch
👀 Book launch 💫 📅 26 November 17.00-19.30:
First, Then… Repeat. Workshop scripts in practice

Join us to celebrate the launch of the new H&D publication! We will be in good company of Gabriel Fontana, Stefanie Wuschitz and fanfare who all contributed to the publication. In parallel the publication will be presented at Milano Art Book Fair!
Gabriel Fontana is a social designer. He is the initiator of Multiform, a tool that challenges and examines ideas of identity, community, and inclusion by proposing games for sport classes at schools, generating an openness and empathy that later on filter into wider society. Through a queer framework, Fontana investigates how daily social practices reproduce conservative values and reinforce power structures.

Stefanie Wuschitz works at the intersection of research, art, and technology, with a particular focus on Critical Media Practices (feminist hacking, open-source technology, peer production). She is founder of the feminist hacker space Mz* Baltazar's Lab

fanfare is a platform and design studio for cross-disciplinary collaboration and visual communication. Through an active programme, fanfare generates, explores, and curates environments for visual interactions.
Context
The publication, installation (built with the fanfare display system) and workshop program are part of the artistic research project of designer, educator and H&D member Anja Groten at PhDArts (https://phdarts.eu/) Academy for Creative and Performing Arts Leiden and the Making Matters project (http://making-matters.nl/).
Disclaimer
Please read the H&D Code of Conduct before joining the activities.
The space of Page Not Found is mostly wheelchair accessible with the exception of the rest room. Please let us know if you have any access needs that we should take into consideration.