09.03.2023——10.03.2023
In-Between Media: Hybrid Tactics in The Crisis Era
10:00-18:00
Amsterdam
w/ Margarita Osipian, Hackers & Designers, Michael Murtaugh, The Hmm, Karl Moubarak, Framer Framed, INC, Joana Moll, Geert Lovink, Dunja Nešović, Tina Kendall, Agnieszka Wodzińska, Jordi Viader Guerrero, Cade Diehm, Roman Dziadkiewicz, Aymeric Mansoux, Lukas Engelhardt, Nick Briz, Donatella Della Ratta, Sepp Eckenhaussen, Derk Over, Benjamin Pompe, Daniela Tenenbaum, UKRAiNATV, Chaeyoung Kim, Erica Gargaglione, Mariana Lanari, Remco van Bladel, XPUB, Daniel Leix Palumbo, Creamy, Justin case, Powerswitch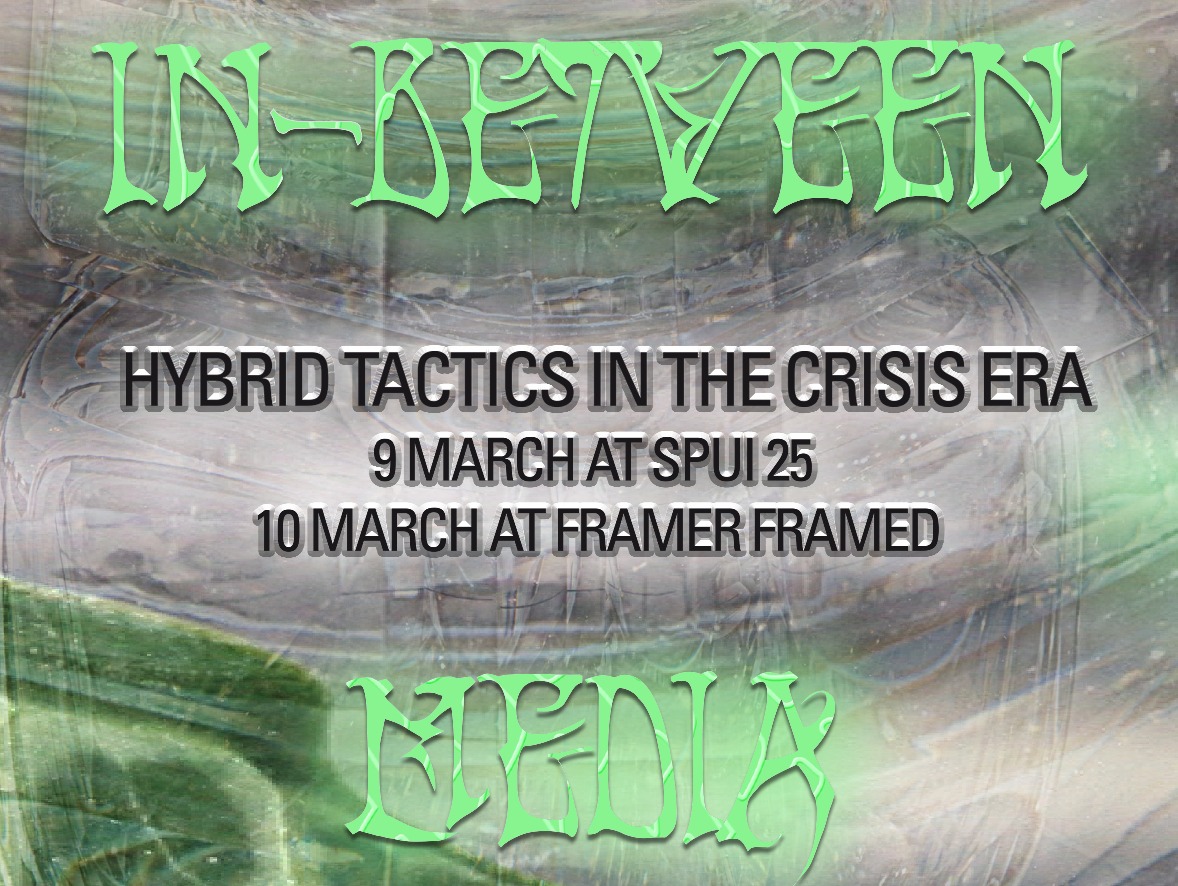 A two-day conference on (hybrid) media tactics and togetherness in the field of art and activism, taking place at SPUI25, Framer Framed, OT301, and online.
Day 1 @ Spui 25, Amsterdam, and online
March 9, 2023 10:00 – 18:00
Day 2 @ Framer Framed, Amsterdam, and partly online
March 10, 2023 10:00 – 18:00
Party 'Noises from the In-between' @ OT301, Amsterdam
March 10, 2023 21:00 – 03:00
This conference is free of charge, but seating is limited. Book your tickets via Eventbrite HERE.
About the Conference
The Covid pandemic has catalyzed experimental approaches to hybrid cultural programming and togetherness, mixing online, offline, and everything in-between. How can we translate the lessons learned into ways of dealing with post-pandemic urgencies? Can we use hybrid tactics in response to violent displacement, physical impairments, and the war in Ukraine? What kind of tactical media can exist within these (new) digital spaces, and which potential for resistance do they have? Data and information used as a tool for power might not be new, but some of the strategies being looked at in this conference—hopefully—are.
During the first day of this conference, we'll have panels, talks, and round table conversations about precisely these questions. Starting off with TikTok as a research subject, we dive into its nature and qualities which lends itself to a specific user attitude: both engaged and not, both within each other's space, and not. Furthermore, we'll hear some hands-on testimonies about streaming resistance and look at practices that both critique and use (mainstream) platforms as a method, or even a weapon. Ending the day, we strive to find strategies for dealing with the locative media that is tracking us everywhere, as well as the techno-capitalist narratives underlining our technologies. How can anarchists—or simply users—tactically misuse online platforms?
On the second day, we invite you to join several workshops, expert sessions, and plenary talks. We'll discuss the possibilities of event reporting through a whole new workflow, how online visitors can impact a physical space, whether or not living archives are even truly 'alive', how to squat the cloud, setting up quick and dirty live streams, and what to think of when looking at the (hybrid) future.
In-between Media is organized within the framework of the two-year research project Going Hybrid, which investigates several aspects of the 'evolution' happening in hybridity, both in hybrid publishing, participatory live casting, and living archives. Partners of Going Hybrid are MU (Eindhoven), The Hmm (Amsterdam), Hackers & Designers (Amsterdam), Willem de Kooning Academy (Rotterdam), Framer Framed (Amsterdam), Varia (Rotterdam) and IMPAKT (Utrecht). You can find more info on the project here.
Program
For a quicker overview look at the timetable
DAY 1 – SPUI25
Introduction by Geert Lovink
Data Extraction, Materiality, and Agency by Joana Moll
Opening up the In-Between Media conference prominent Joana Moll will be teaching us about "Data Extraction, Materiality, and Agency". Moll is a Catalan artist-researcher, based in Berlin and Barcelona. Her work investigates the materiality of digital platforms and puts out the challenge of hacking techno-capitalist narratives on surveillance systems, internet geopolitics, and ecological impacts. Her past projects include Carbolytics , a web-based installation that "shows the average global volume of cookie traffic in real time and demonstrates how cookies parasitize user devices to extract not only personal data but also energy", 4004, an online/physical exhibition tracing the exponential "growth of the microprocessor and the decline in both number and diversity of species", and The Hidden Life of an Amazon User , an interactive installation addressing Amazon's "unacknowledged but aggressive exploitation of their users, which is embedded at the core of the so-called internet companies' business strategies".
In her talk at the In-Between Media conference, Moll will discuss the themes of her research more in-depth, and you will have the opportunity to learn more about the contemporary methods of claiming agency in the opaque maze of algorithmic governance.
Panel: Scrolling Intimacy
Moderated by Dunja Nešović
11:00 – 12:30
Do you find yourself in TikTok limbo? Ever since the video-sharing app popped up in 2016, TikTok has become an omnipresent media whose discursive content is having impacts well beyond the containment of the platform. Following its predecessors Vine and Musical.ly, TikTok prioritizes short-format videos, self-referential humour, and user duetting. In the absurdity and vastness of our digital existence, TikTok is the place where niche internet cultures blend with the mainstream through an uninterrupted outpour of microtrends. As addictive as it is endless, the draw of the TikTok algorithm got us scrolling away the days. But how is TikTok becoming more than a pastime distraction? What is the amplifying power of this platform within wider public discourse?
That is the question we will come to answer in the panel "Scrolling Intimacy: The TikTok Limbo".
Here is the full schedule:
11:00 – Bored in the (Hybrid) House: TikTok as Ludotopia in a Time of Crisis, Tina Kendall
11:10 – Dead and Kicking: TikTok and Subculture, Agnieszka Wodzińska
11:20 – Infinite Scroll as a Symbolic Form, Jordi Viader Guerrero
11:30 – Round table talk with Tina Kendall, Agnieszka Wodzińska, Jordi Viader Guerrero, moderated by Dunja Nešović
Panel: Practices of Streaming Resistance
Hybrid events, live streaming, zoom calls and virtual reality are just a few of the new ordinary spaces that have been populated more and more after the global COVID-19 pandemic. Then, when hybrid culture becomes the standard, we need to start asking how our bodies and participatory practices are affected by that. In the panel "Practices of Streaming Resistance," we will try to look at different tactics of togetherness in these new spaces, from grassroots webcasting methods to para-real events.
Here is the full schedule:
13:30 – Thresholds of Access, a conversation between Margarita Osipian and Karl Moubarak (The Hmm and Hackers & Designers)
13:50 – Digital Infrastructure Resilience and Weaponized Design, Cade Diehm
14:00 – UKRAiNATV, or: Introduction to Stream Art, Hybrid Togetherness and Virtual Politics, Roman Dziadkiewicz
14:10 – Round table talk with Cade Diehm, Roman Dziadkiewicz, and Karl Moubarak, moderated by Margarita Osipian
Presentation Session: From Tactics to Strategies
With the advent of platform centralization and the defeat of an autonomous internet, the question of strategies of resistance becomes even more crucial. How do you organise all the different tactics that have emerged in the last decades? Where do you store them? How do you maintain them? These are just a few of the questions that will be analysed in the presentation session "From Tactics to Strategies", in which we will dive into platform imaginaries, autonomous online services, and DIY server hosting.
Here is the full schedule:
15:30 – LURK: Jenga Computing and Precipice Workflow, Aymeric Mansoux
16:00 – How-to.computer: A Self-Hosting Guide, Lukas Engelhardt
16:30 – The Tactical Misuse of Online Platforms, Nick Briz
17:00 – On Tactical Video Archives, Donatella Della Ratta
DAY 2 – FRAMER FRAMED
EXPERT SESSIONS
10:30 – 12:00 – Parallel, choose one
Event Reporting New Style: From Bureaucratic Duty to Conversation Starter, facilitated by Sepp Eckenhaussen
The amount of (hybrid) cultural events taking place has surged during and after the pandemic. However, much of the cultural value, shared knowledge, and insights generated are lost because of the lack of effective, interesting reporting practices. During this session, participants will test the event reporting tool created by the Hybrid Publications group of Going Hybrid. We'll discuss and reflect on how to make cultural event reporting more dialogic, open-ended, and non-linear, while also reducing workload and preserving high quality.
A Living Archive is also a Dying Archive, facilitated by Sofia Boschat-Thorez
Starting from research questions surrounding the inherently ephemeral nature of archives that live on the internet, this expert session will look at the structure and classification aspect of an online archive, the care and maintenance it requires, as well as which parameters for curating content lie at the forefront of a truly accessible archive.
Hybrid Intimacies: Linking Online and Offline, with Derk Over and Benjamin Pompe, facilitated by Daniela Tenenbaum
The implementation of gamification theory into many aspects of our lives has fundamentally changed how we interact with the world around us, from getting rewarded with loyalty points for being active on a platform to unlocking special VIP features on software for giving our data. Our attention span is now dependent on short-term accomplishments and quick wins. As one of the biggest challenges in designing a "successful" hybrid event is keeping an equal level of engagement between online and offline participants, we want to examine whether incorporating game theories into hybrid formats can help develop solid connections. In this participatory session, we will try to answer the question of how we can create events that implement game qualities to create new formats for exchanging ideas and knowledge that go beyond online panels and exhibitions.
WORKSHOPS
12:45 – 15:45 – Parallel, choose one
'Emoji Proxies & Ghost Messengers' by The Hmm and Hackers & Designers
As an online visitor to cultural events, you can often do little more than ask a question in chat, and chat with other online visitors. How can online visitors feel seen, become more involved in, or even have agency over what happens on-site? This is something we're going to explore during this workshop. Please note: online participants can only join the last part of the workshop, from 15:00 until 15:45.
'Pop-Up Bridges: Quick and Dirty Live Streams' by UKRAiNATV and #StreamArtStudio crew
This workshop will focus on setting up and creating links between different spots, internet platforms, hardware and software connections, signals, and forms of hybrid togetherness. During the 3-hour working process, we will test the possibilities of a DIY and DIT streaming set-up, building a temporary POP-UP STUDIO in the space of Framer Framed as well as create media bridges between the UKRAiNATV #StreamArtStudio in Krakow (PL) and—hopefully—a brand new studio in Kyiv (UA). We will work with streaming in both an aesthetic and ethical way, moving in-between platforms, places, and possibilities, mixing and meeting people, machines, and signals in a 'transhuman vibe'. All of this with the aim to (potentially) do virtual politics, or just to hang out in a hybrid way, despite the shade of geopolitical tensions and most likely the lack of power (in all meanings of this word).
'Small, Clumsy, and Intimate Devices for Awkward Hybrid Settings' by Chaeyoung Kim and Erica Gargaglione (Master Experimental Publishing, Willem de Kooning Academy)
Wait. How are hybrid settings actually affecting the way we sense others' presence in public events? How can we bring intimacy when hybrid media interrupt instead of facilitating modes of togetherness? In this three-hour workshop, participants can build their own small, clumsy, and intimate devices to hijack the idea of hybridity. The devices will be physically built to be used during the following 'plenary closing sessions', both online and offline.
PLENARY CLOSING SESSION: DRAWING LESSONS TOGETHER
'Archiving the Present', a lecture by Mariana Lanari and Remco van Bladel
Mariana and Remco will present recent projects in collaboration with de Appel, Casa do Povo, and Framer Framed. They'll talk about mediation in cultural archives, considering physical collections and databases in relation to digital-born archives. They'll also share their hybrid archiving methods, using site-specific installation to decompose, reinterpret and perform algorithms to redefine ontologies, draw models, project tools, and re-imagine the working environments of our future.
'Remote Login Is a Lot Like Astral Projection (Stories from XPUB)', a lecture by Michael Murtaugh and members of XPUB
Etherpads, jitsi links, mailing lists, zulip threads, wiki pages. git repos, IRC rooms, bootleg libraries radio streams, code notebooks… As a program XPUB explores the technosocial implicancies of platforms and (digital tools) with a focus on Free/Libre, self-hosted, and feminist technologies. As with other educational institutions, lockdown raised the stakes and heightened our sensitivities to the impact of our infrastructural decisions, including the often rough edges between the promises of collective presence and the practical, social, embodied limitations. The presentation will be accompanied by an intervention with devices built during the workshop 'Small, clumsy, and intimate devices for awkward hybrid settings' facilitated by Chaeyoung Kim and Erica Gargaglione.
'Wrapping Up, Looking Ahead', a round table talk moderated by Sofia Boschat-Thorez
Round table with the expert session leaders, workshop leaders, and speakers of the day, moderated by Sofia Boschat-Thorez.
NIGHT 2 – OT301
21:30 – Daniel Leix Palumbo (Live Set + Visual)
22:30 – Creamy (Dj Set)
24:00 – Justin case B2B Powerswitch (Dj Set)
03:00 – End