13.10.2023
The Hacked Orchestra @ Muziekgebouw aan 't Ij
10:00 – 18:30
Muziekgebouw aan 't Ij
w/ Hackers & Designers, Ghenwa Noiré, Sonic Acts, SoundLAB
On Friday 13 October, workshop collective Hackers & Designers will temporarily reside at SoundLAB inside Muziekgebouw aan 't IJ for a workshop and jamming session with guests (to be announced soon!). This program around sonic dialogue and DIY instrument-making is co-curated together with Sonic Acts.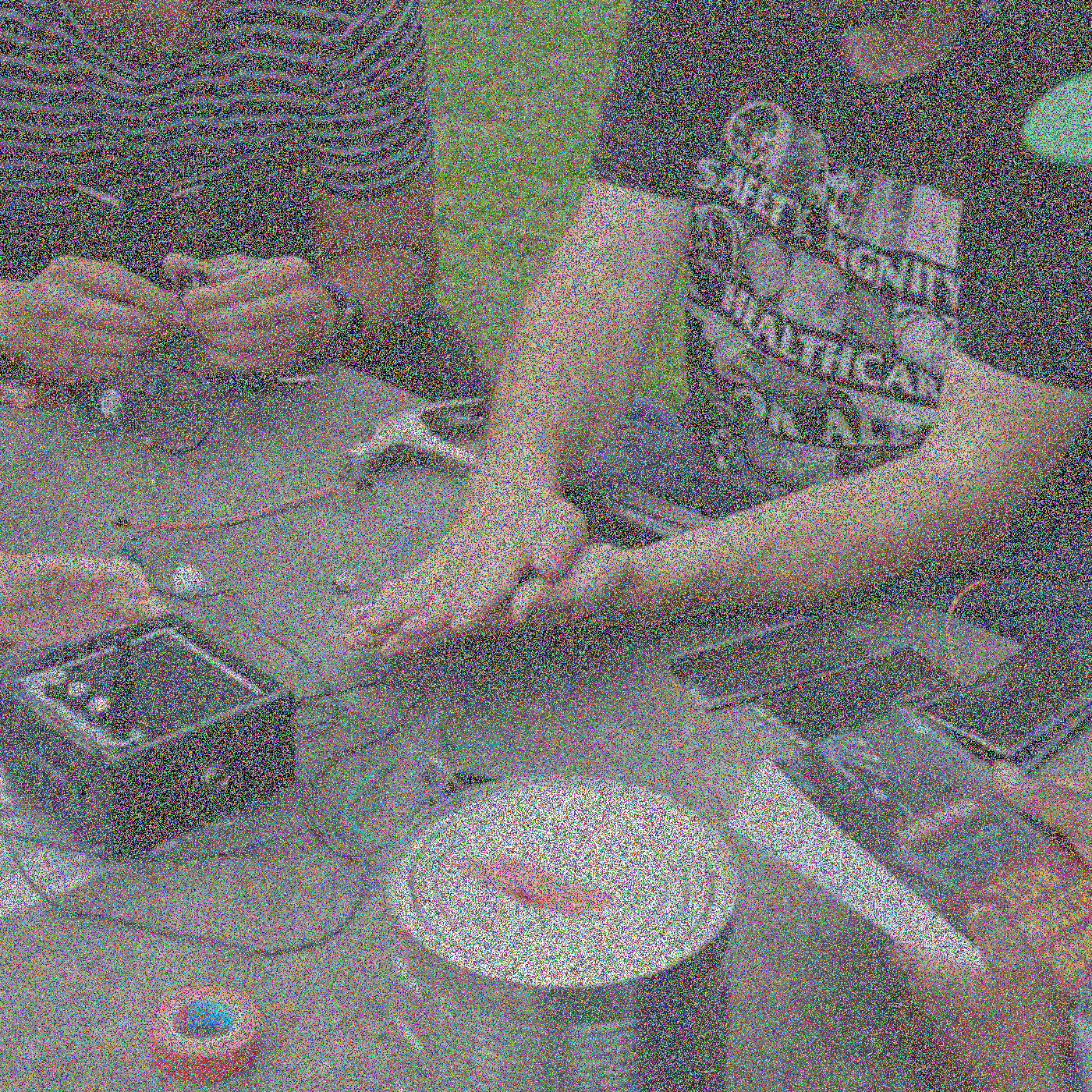 Image description:Anonymized hands are engaging with electronics on a table, including cables, some solar panels, and a speaker.
Hackers & Designers is a group of artists/designers/toolmakers/technologists who explore technologies and their role in contemporary life by opening them up together, and experiment with learning by doing. In a series of events under the name Hacked Orchestra, the collective teams up with artist Ghenwa Noiré, SoundLAB and Sonic Acts to explore the radical social potential of active listening in the shape of informal, improvisational sonic dialogue sessions. During our first event at this iconic location in Amsterdam we will engage in intuitive forms of communication, listening and interacting with others, through sonic gestures. In a workshop and evening program we will explore how hacking and bending electronics circuits can distort, amplify, muffle, highlight or otherwise inform unspoken modes of communication.
Are you a (self-taught, aspiring or even professional) musician, performer, producer, great listener, vocalist, coder, circuit-bender or hardware hacker? Or are you just generally interested experimental sounds? Then join us for a 1-day workshop in active listening and sonic dialogue, and hack together your own sound tool to play with, using a Teensy board. We will co-host this workshop with performer and artist Ghenwa Noiré and SoundLAB jam facilitators. No prior electronics, coding or musical knowledge is required, genuine interest and some tolerance for noisy environments will suffice.
After a short break we will continue with a Hacked Orchestra evening program, co-curated with Sonic Acts and SoundLAB. Expect an evening of conversations about jamming as collaborative practice, and special guests who will demo their DIY musical instruments live. Explore some of the instruments at SoundLAB or bring your own to join a short jam session led by Ghenwa Noiré!
Location
The event will be held at the Atriumzaal in Muziekgebouw aan 't IJ, Piet Heinkade 1, 1019BR Amsterdam.
Program
Workshop + speaker program + jam

13 October 10.00 - 18.30
Fee: € 25,- to be paid at the door (cash/card)
Speaker program + jam only

13 October 16.00 - 18.30
Fee: € 5,- to be paid at the door (cash/card)
Guest Speakers
Paula Montecinos Oliva (CL) is an Amsterdam-based sound artist, performance maker and researcher. With an embodied, decolonial and techno-feminist approach, her practice questions the materiality of sound, listening and movement, through DIY analog synthesis, vocals and research of frequency phenomena and somatics. Paula's current project Sonic Feminist Fabulations, explores radiophonic format as a performative space, linking listening, sonic archives, bodies and vibrations to diasporic global south experiences. http://www.paulamonte.cl/
Sign-up
Please sign up by sending an email using this link and filling in the blanks.
We will only use your provided email address to contact you regarding information about the event.
Access notes
Both the workshop room and the Atriumzaal are wheelchair accessible. The building has a walking bridge that is quite steep, you can also enter the building from the ground floor and take an elevator up to the Atriumzaal. The building has a wheelchair-friendly elevator and bathroom. There are accessible - paid - parking spots below the building, in the Piet Hein parking. The workshop part of the event will be held mainly in English, but we can also facilitate in Dutch, Arabic and French. This will be a noisy workshop, so taking breaks and stepping out whenever needed is encouraged! The guest program, although less speech-heavy, will be held in English.
If you have any access needs that are not addressed here, please let us know via email. Tell us what you need to participate. We wish to reduce barriers!
Code of Conduct
We ask participants of our workshops to read the H&D Code of Conduct before attending the event. If you observe or encounter any behavior that violates the CoC, please reach out to Karl via email (karl@hackersanddesigners.nl) or phone number: +31 6 40433749. Unless you explicitly request otherwise, your report will be processed anonymously.
Documentation
The event will be audio recorded and the file will be made available shortly after on this page. H&D member e.zn will also be present to take photos.
Photos!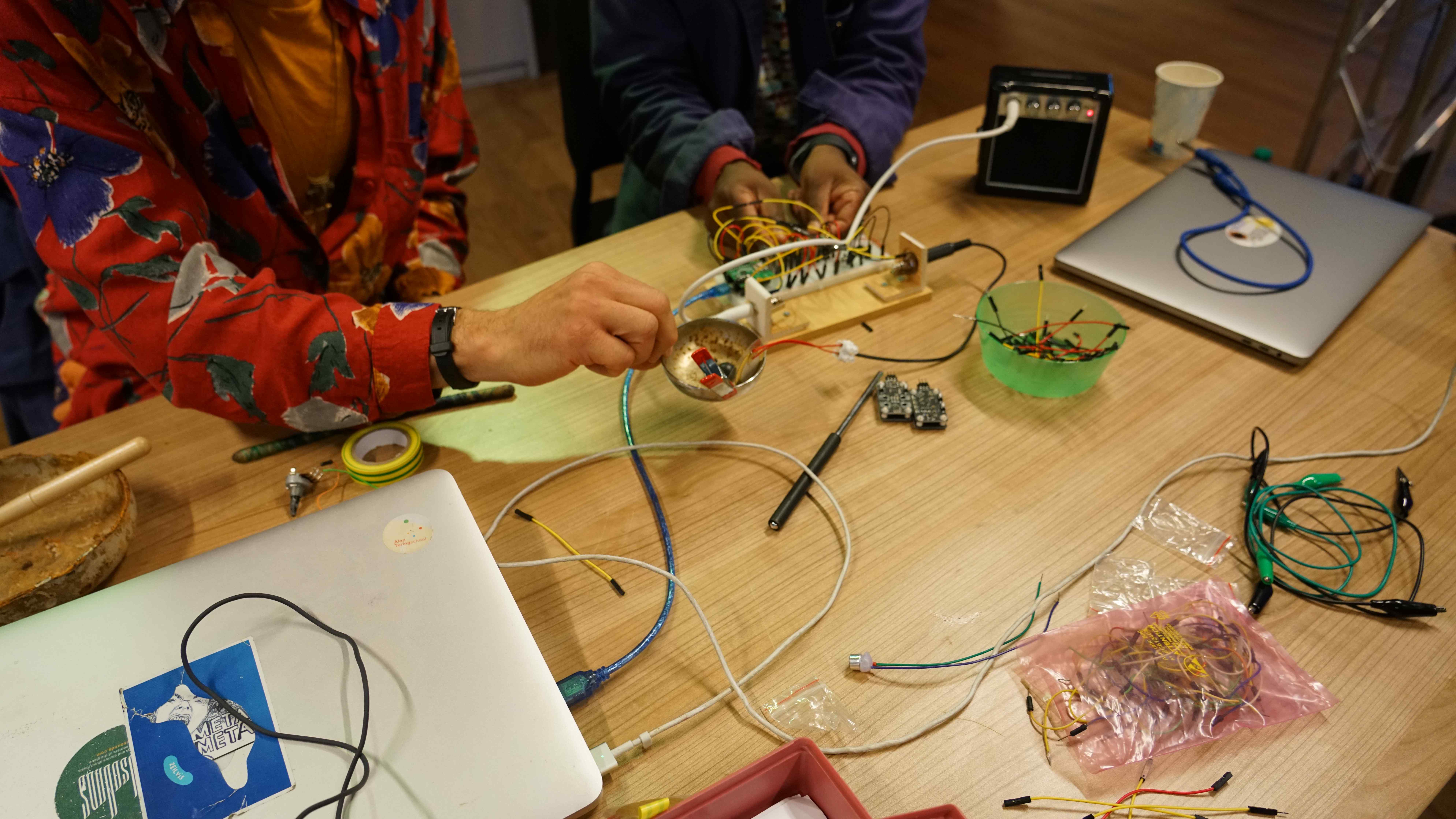 Image description: Workshop participants are seated at a table in the workshop space with computers, speakers and other electronic components in front of them. They are assembling the components together. The component setup seems to be a metallic bowl with a contact mic clamped on to it connected via a headphone jack as an audio input to a Teensy board. This boards in turn uses values provided by knobs and switches connected to it to produce electronic sounds that are played by a speaker.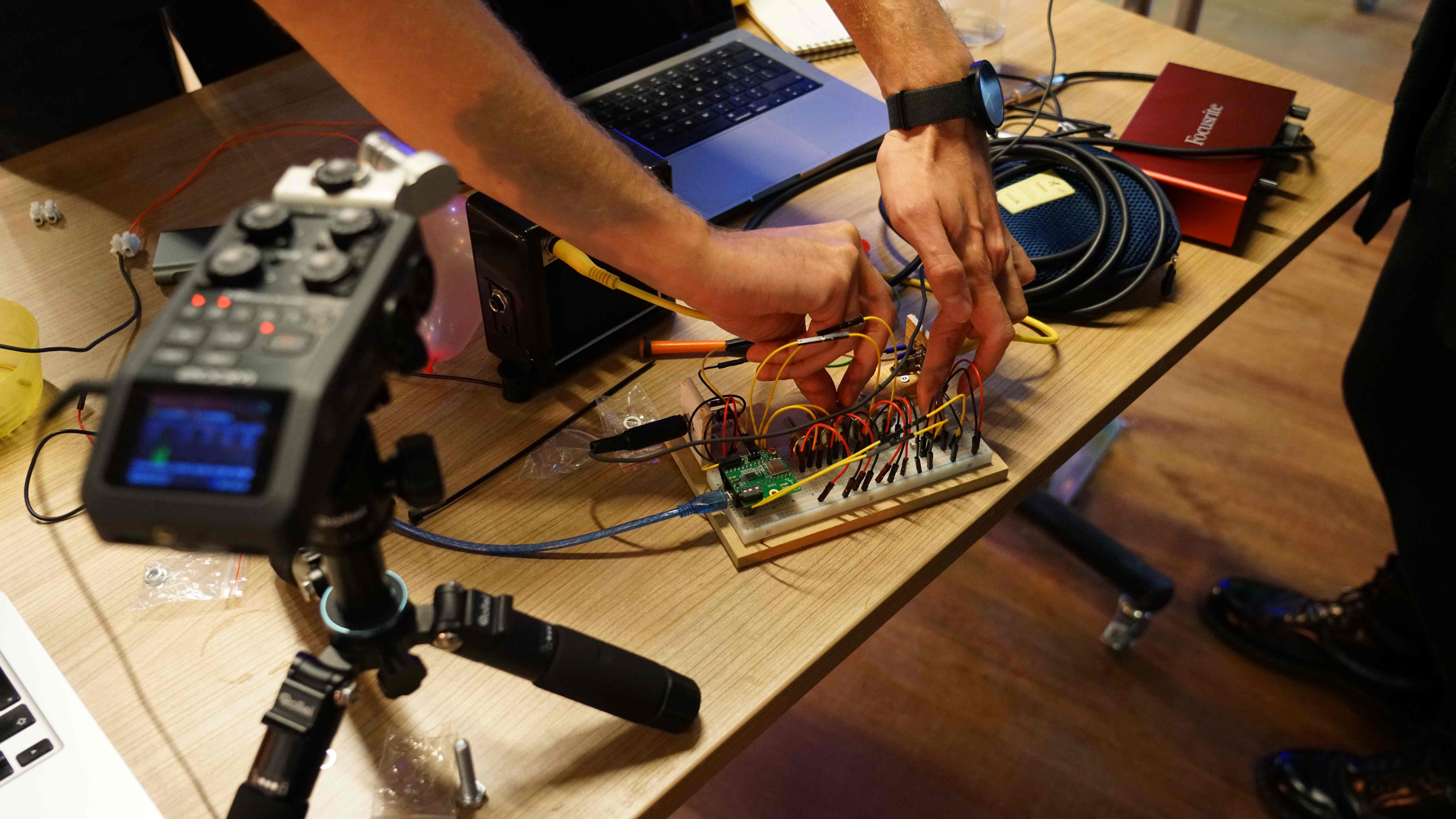 Image description: A self-made electronic music instrument sits on a table alongside a computer and a few other electronic devices. Two hands are actively manipulating the electronic current in the device with both a potentiometer and a switch connected to the breadboard. A speaker is emitting the generated electronic sound (hopefully). In the foreground stands a Zoom audio recorder pointed at this setup, capturing its noise output.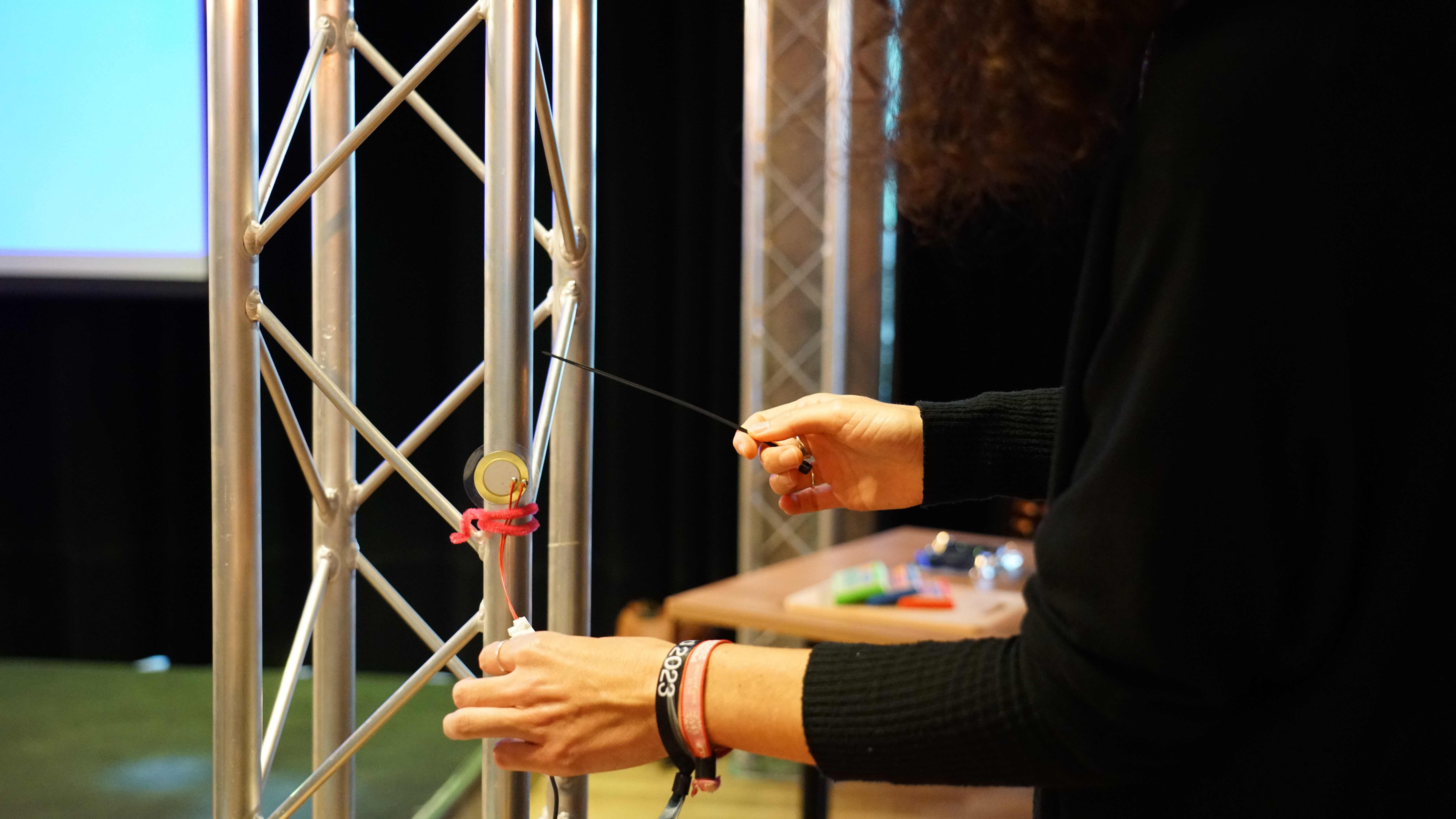 Image description: A hand holds a contact microphone flush to a metal pole with the generous help of pink fuzzy craft wire to keep it in place. Another hand holds an unrolled tie wrap and seems to be caressing the pole with it. This action should be generating vibrations in the pole that would in turn be picked up by the contact mic and converted into electronic sounds.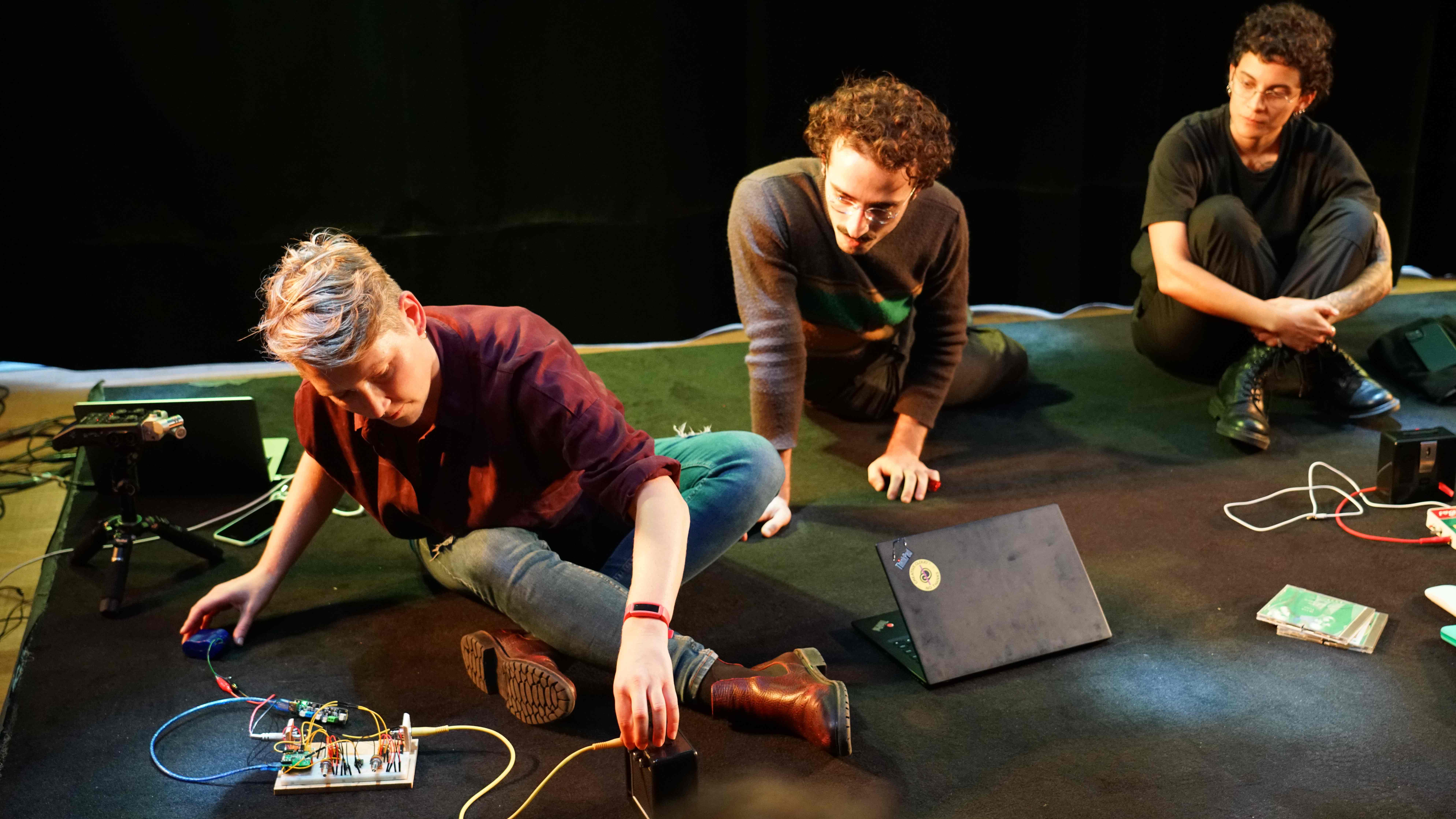 Image description: H&D workshop facilitators are seated on a stage at the end of the workshop demonstrating one of the electronic instruments that was built by workshop participants during the day. Not visible in the frame are the audience members of this demonstration: members of the public,  project partners and funders. The demonstration was unsuccessful as the device remained silent.
Credits
We would like to thank our partners Sonic Acts, Muziekgebouw and SoundLAB as well as all our invited guests for making this event a possibility.
The cover image on top of this page was made during the first Hacked Orchestra workshop at the Hackers & Designers 2023 Summer Camp.
All other images on this page were produced and selected by H&D member e.zn and described by H&D member Karl.
This event is kindly supported by Amsterdam Fund for the Arts and the Creative Industries Fund.