18.10.2023
Unionizing the Speculative
17:00 – 20:00
Sandberg Instituut
w/ Hackers & Designers, Noam Youngrak Son, Platform BK
Unionizing the Speculative is an informal gathering that invites precarious cultural workers whose value of labor is likely to be challenged under the influence of generative AI. Participants will explore the collective strategy of advocacy through Speculoos biscuits containing AI-generated images.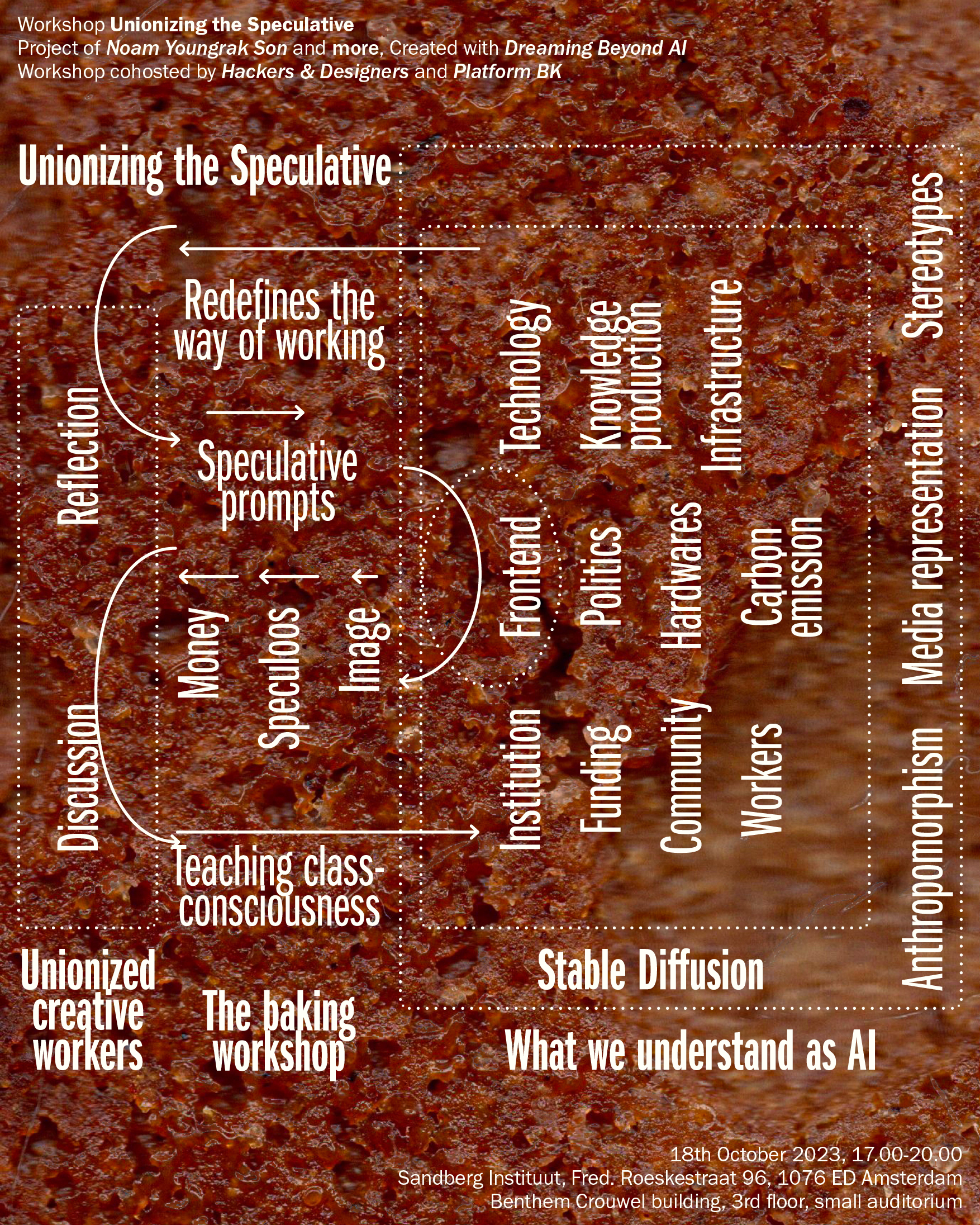 How can creative workers unionize with generative AI? How can we as creative workers be accountable to AI-led automation? How did linotype and personal computers cause the demise of the International Typographical Union (ITU) which used to be one of the most influential unions in the US? What is the role and limitation of speculation as a strategy in this?
This workshop will be an immediate response to these urgent questions. Using image generating AI Stable Diffusion, we will generate images that will be engraved on Speculoos cookies whose name shares its origin with the word "speculate." The cookies will serve as a symbol of the speculative fund raising to teach AI labor ethics. The goal of the workshop will be to collectively speculate how this fund could be used and come up with the strategies of campaign to manifest the voices of creative workers about the influence of generative AI to our labor conditions.
Time & Place
18th October 2023, 17.00-20.00
Sandberg Instituut, Fred. Roeskestraat 96, 1076 ED Amsterdam
Benthem Crouwel building, 3rd floor, small auditorium
Sign-up
Please email hinoamson(at)gmail(dot)com for registration.
Access
The workshop is free of charge. Participants are encouraged to bring their computer. No prior knowledge on AI is needed as we will go through the case studies together. The building is wheelchair accessible and there's an accessible WC on the first floor. There will be tea and coffee.
Credit
Conceptualized by Noam Youngrak Son during their Dreaming Beyond AI Residency.
Workshop co-hosted by Hackers & Designers and Platform BK